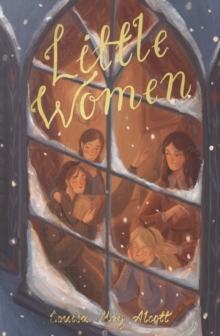 Little Women & Good Wives
Paperback
Description
Little Women is one of the best-loved children's stories of all time, based on the author's own youthful experiences.
It describes the family life of the four March sisters living in a small New England community, Meg, the eldest, is pretty and wishes to be a lady; Jo, at fifteen is ungainly and unconventional with an ambition to be an author; Beth is a delicate child of thirteen with a taste for music and Amy is a blonde beauty of twelve. The story of their domestic adventures, their attempts to increase the family income, their friendship with the neighbouring Lawrence family, and their later love affairs remains as fresh and beguiling as ever. Good Wives takes up the story of the March sisters, some three years later, when, as young adults, they must face up to the inevitable trials and traumas of everyday life in their search for individual happiness.
Information
Format: Paperback
Pages: 464 pages
Publisher: Wordsworth Editions Ltd
Publication Date: 05/08/1993
Category: Classic fiction (pre c 1945)
ISBN: 9781853261169
Other Formats
Hardback from £7.45
Paperback from £2.50
EPUB from £1.04
Free Home Delivery
on all orders
Pick up orders
from local bookshops
Reviews
Showing 1 - 4 of 4 reviews.
Review by helen295
16/06/2015
If you read and enjoy Little Women, you'll almost certainly want to read the sequel, Good Wives, so I recommend buying the two-books-in-one version if possible.I first read these books as a child but still love them now. Little Women tells the story of four sisters - Meg, Jo, Beth and Amy - whose father is away fighting in the Civil War. Everyone will be able to identify with at least one of the sisters, which is part of the appeal of the book. Good Wives continues the story as the girls grow up.There are also two more books in the series - Little Men and Jo's Boys.
Review by BookMarkMe
16/06/2015
I found that this novel was overly moralistic and sickly sweet for my tastes but well written nevertheless. I can see the attraction for its target audience. Just not for me.
Review by Miki.ka
16/06/2015
The book is a story about four sisters-Meg,Jo,Beth,and Amy March.Each sisters has a different plan for her future life.Meg is going to marry John Brooke. Jo wants an exiting life and she wants to be a famous writer. Amy wants to be a painter and she wants to travel to Europe. Beth wants to stay at home.I don't have any sisters. But I think this story appear the bond of brotherfood.
Review by libraian
16/06/2015
This is the classic children's story, loosely based on Louisa May Alcott's childhood in Massachusetts, of a year in the lives of the four March sisters. Pretty Meg is the eldest at 16, but the heroine is tomboyish Jo. The two younger girls are quiet Beth and 12 year old Amy, who is still something of a child. Though of 'one of our first families', the Marches have fallen on hard times, and in addition, Mr March has joined the army and is away from home. In spite of longing for easier times, the girls and their mother help those less fortunate than themselves, both materially and emotionally. They make friends with Laurie and his grandfather, who are their neighbours, and include them in their adventures.The story of the sisters is enchanting in itself, and draws you in. The girls - Jo especially - get into and out of scrapes, from which their mother usually draws a lesson, to encourage them to be better people. I remember being outraged alongside Jo whenever she got into trouble, when I read this as a child myself. It also offers a glimpse of life in America in what was the Victorian era in Britain.I think this is a well written story for children; as a child, I was passionately involved in Jo's ups and downs in life, although I don't think I fully understood Meg's embarrassment when she didn't have as nice clothes as her friends to wear to a party. The hardships the family had to go through were part of the background to the story, but didn't oppress the atmosphere. Mrs March's lessons probably went straight over my head; re-reading the book as an adult, they seem slightly preachy, though they are incorporated fairly well into the fabric of the story.On the language front, it was amusing to note that a lot of linguistic quirks I normally associate with pre-war British literature made their appearance, such as "there's a good fellow".All in all, still a good 'un to read.
Also in the Wordsworth Children's Classics series | View all