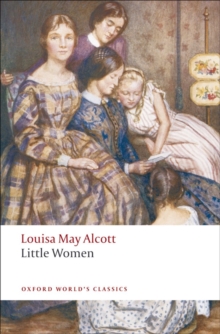 Description
Little Women has remained enduringly popular since its publication in 1868, becoming the inspiration for a whole genre of family stories.
Set in a small New England community, it tells of the March family: Marmee looks after daughters in the absence of her husband, who is serving as an army chaplain in the Civil War, and Meg, Jo,Beth, and Amy experience domestic trials and triumphs as they attempt to supplement the family's small income.
In the second part of the novel (sometimes known as Good Wives) the girls grow up and fall in love.
The novel is highly autobiographical, and in Jo's character Alcott portrays a strong-minded and independent woman, determined to control her own destiny.
The introduction to this edition provides a fascinating history of the Alcotts,and of Louisa Alcott's own struggles as a writer.
ABOUT THE SERIES: For over 100 years Oxford World's Classics has made available the widest range of literature from around the globe. Each affordable volume reflects Oxford's commitment to scholarship, providing the most accurate text plus a wealth of other valuable features, including expert introductions by leading authorities, helpful notes to clarify the text, up-to-date bibliographies for further study, and much more.
Other Formats
Paperback from £2.50
Hardback from £5.25
Mixed media product from £10.45
CD-Audio from £9.95
Free Home Delivery
on all orders
Pick up orders
from local bookshops
Reviews
Showing 1 - 5 of 9 reviews.
Previous | Next
Review by salisb27
16/06/2015
A book following the lives and relationships of four sisters who come to know each other through the explorations of themselves.Students can come to understand Victorian society and expectations for men and women and it also details domestic Victorian life.
Review by jdieder104
16/06/2015
Good book about growing up and being happy. To have a strong foundation and belief system in family and friends. There are a number of life lessons in this book that could be discussed in a classroom setting. The book talks about women for the most part and don't think would keep the interest of the boys. Therefore, I would put it on a recommendation list but not a book everyone has to read. I was suprised Jo did not marry Laurie, but was happy she picked who she loved. Amy did seem like a better fit for Laurie in the end. The parents are very strong characters and allow their children to make decisions and learn from their mistakes. Glad I read this classic.
Review by wenzowsa
16/06/2015
As one ages, one's perspective on this book changes. I, myself, enjoyed Beth, the good, kind, and patient sister, the most when I was a child. Her death always made me sob uncontrollably. Oh tragedy! Now that I'm older, about a good twenty years older than when I first read this book, I've discovered that I admire Jo, the protagonist, more. Her willingness to assert herself in a world where women were expected to be dutiful and quiet is commendable, and her personality, I believe, is the most developed out of the three other sisters.This book is the perfect example of the classic American novel.
Review by Rachissy
16/06/2015
It took me a few days longer than I thought it would, but I finally finished Louisa May Alcott's Little Women. I am actually a bit surprised that in my 28 years as a woman, I never managed to read this one, especially in my younger years. Of course, it's reputation as THE must-read for teenage girls is probably the number one reason I never picked it up at that age since I was the kind of girl who refused to do anything she was expected to do.Now that I've finally read and finished it, I think it would have done me a lot of good to read it back then. I could have learned a lesson or two from the March girls about listening too and respecting their mother and also about working hard and not being idle. The March girls are the model of perfect daughters, even with their very few faults. They are loving, good, respectful, grateful, and mild-mannered. My one major problem with the book is that it's hard to read page after page of perfection. Even when trouble arises they still act perfect and as expected. The few times one of them does something less than ideal it only takes but a few minutes for them to be remorseful about it. It's their perfection that bothered me the most. I am a very flawed individual as are most people. It gives you character and makes you more interesting to learn about. There are no surprises with perfect creatures. You know exactly how they will react and what they'll do in any situation and I think it even makes them less likeable. Have you ever met someone who an do no wrong? After a while it starts to drive you crazy and you find yourself just praying for them to lose it and start screaming at someone. That's what I was waiting for. Having seen the movie, I knew it wasn't going to happen but I was still hoping for an argument, or some drama.Of course this could just be a sign of the times. The book begins near the end of the civil war and at the time it was expected of women to be perfect and angelic creatures who dream of nothing but serving others and being agreeable and good. So in that time, I'm sure the few instances of the girls being less than perfection probably stood out a lot more. Also, since Louisa May Alcott used her own family and sisters as her inspiration for the story, perhaps she wanted to paint them all in that kind of light as a tribute to them. I know that if I wrote a story about my own family I would have a hard time focusing on their faults as well and I can't blame her for wanting to portray them in a positive light.For me, I just kept wondering what the big deal was. It was a good story but I just don't see what makes it as big of a classic as it has become. To me, it was just a nice story about four lovely girls and their fairly simple and unremarkable lives. It was easy to read as each chapter is like almost it's own little short story of some event that happens in the family over the years. However, I just didn't get absorbed into the book, I found it to be a little preachy. Almost, like listening to my grandmother telling me how I should think and act and I got as sick of hearing it from the book as I did from my grandma. Maybe it's just a problem with me though. I do plan on making my daughter read it when she's a bit older though, maybe she'll take the lessons to heart and give me an easier time in her adolescence than I gave my own mother. A mother can dream, right?
Review by m.s.h.y
16/06/2015
This book is about poor four women. They had a very hard time. I think she is very poor. But they got little happiness. This book give me time that I think what life is. But I think this story is little boring. Because this story is simple. If this book is more complicated, I check 5stars. But I could spend time thinking of what life is. It very important for me. So I want to read like this book.
Also in the Oxford World's Classics series | View all