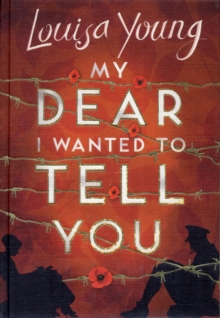 My Dear I Wanted to Tell You
Hardback
Description
Set on the Western Front, in London and in Paris, MY DEAR I WANTED TO TELL YOU is a moving and brilliant novel of love, class and sex in wartime, and how war affects those left behind as well as those who fight. While Riley Purefoy and Peter Locke fight for their country, their survival and their sanity in the trenches of Flanders, Nadine Waveney, Julia Locke and Rose Locke do what they can at home. Beautiful, obsessive Julia and gentle, eccentric Peter are married: each day Julia goes through rituals to prepare for her beloved husband's return.
Nadine and Riley, only eighteen when the war starts, and with problems of their own already, want above all to make promises - but how can they when the future is not in their hands? And Rose? Well, what did happen to the traditionally brought-up women who lost all hope of marriage, because all the young men were dead?
Information
Format: Hardback
Pages: 336 pages
Publisher: HarperCollins Publishers
Publication Date: 17/03/2011
ISBN: 9780007361434
Other Formats
Paperback from £7.15
CD-Audio from £16.95
EPUB from £4.49
eAudiobook MP3 from £10.39
Free Home Delivery
on all orders
Pick up orders
from local bookshops
Reviews
Showing 1 - 3 of 3 reviews.
Review by nicx27
16/06/2015
This is the story of Riley Purefoy, a young working class boy who meets an upper class family, the Waveneys, and falls for Nadine, their daughter. When World War I breaks out, Riley joins up (he could choose to join up for a year or for the duration of the war, but chose the duration of the war because he didn't want to be in the army for a year!). It's also about Riley's commanding officer, Peter Locke, his flaky wife Julia, and his cousin Rose, who isn't beautiful like Julia,and will probably never marry now. The title is based around the field card that was sent by injured soldiers to their loved ones - they just filled in the blanks with what had happened, how serious etc. I thought this got off to a bit of a slow start, but then I realised this is the sort of book that is best read in larger chunks, to enable me to fully immerse myself in the story. I found it such a sad and moving story, and it brought tears to my eyes a couple of times. The bravery of not only the men, but also the women, who fought and served in the Great War really shines through in this book and I think the author has done an excellent job of getting across the horror of living and fighting through those times. I even felt for Julia, the one character who seems to do nothing but think about her looks, but is actually living through her own battles.I felt very satisfied when I got to the end of this book. A good ending and a great read.
Review by elkiedee
16/06/2015
This moving historical novel tells the story of 5 people during World War I, and the opportunities, dangers and changes they face.Working class Riley Purefoy has had a grammar school education, and an insight into upper middle class artistic life. He has known Nadine Waveney since they met playing in Kensington Gardens as children, but her wealthy parents' bohemian principles have their limits, and when they suspect a romantic attraction the two are kept apart. Nadine wants to study art at college but her mother is concerned that she shouldn't jeopardise her prospects of a suitable marriage. Riley enlists and Nadine signs up as a VAD, a volunteer nurse. Peter Locke is Riley's commanding officer, a rather sensitive soul, perhaps too sensitive. Julia is his beautiful wife, but what does a woman for whom this description has been a full time occupation do when he is away from her? Rose is Peter's plain cousin, for whom the war offers the chance to be a person making a valuable contribution, not just a spinster.The title is taken from a form letter designed to help wounded soldiers write to their loved ones, and letters to and from the characters are used throughout the novel, shaping how we see the characters. Peter and Julia's letters are significant for showing how little they know how to communicate with each other, and how far apart their worlds are now. Riley and Nadine exchange more interesting letters, and I really liked Nadine's willingness to tell Riley how she felt, including expressing anger with him as well as love.Many of the ingredients of Louisa Young's novel are familiar to anyone who has read much about WWI, but I found it a powerful, absorbing page turner. I liked Riley and Nadine much more than Peter and the foolish Julia. I would have liked to see Rose have more of a story in her own right; I felt that she stayed more of an observer and commentator on the stories of others in the novel.Clearly Young has researched extensively, and she uses this to good effect in informing the fiction and evoking the setting. I liked the critique of class divisions made in the novel, especially in Riley's story. Nadine's support for feminist causes of her day made her my favourite character.Young also brings in a story about the development of plastic surgery, originally as a treatment for soldiers disfigured in combat, although this is contrasted with it being offered, almost immediately, as a cosmetic treatment for non-combatants obsessed with their looks.My Dear I Wanted to Tell You is a fascinating historical novel and a memorable love story. Recommended.I received my copy of this book free through the Amazon Vine programme.
Review by pennsylady
02/03/2016
Hardcover (edit)Review WWI epic of love and war My Dear I Wanted to Tell You (2012)by Louisa YoungA touching look at the mettle of men and woman facing WWI2 couples are highlighted....upper crust Peter and Julia Locke and working-class Riley Purefoy and well placed Nadine Waveney.Their lives weave together and each are " tested to their personal limits by World War I.."The character of each relationship is shattered and remolded by the nature of their love andthe atrocities of war.I thought characters were well developed and their inevitable intertwining was movingand well executed.I recommend this fictional look into the shadows of WWI4* (less)