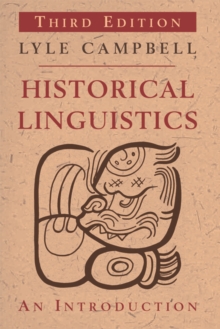 Historical Linguistics : An Introduction
Paperback / softback
Description
This is an accessible, hands-on introduction to historical linguistics.
This practical introduction to the study of language change does not just talk about topics.
With abundant examples and exercises, it helps students learn for themselves how to do historical linguistics.
Distinctive to the book is its combination of the traditional standard topics with others now considered vital to historical linguistics: explanations of why languages change; sociolinguistic aspects of linguistic change; syntactic change and grammaticalization; distant genetic relationships; and linguistic prehistory.
In addition, this edition contains two new chapters on morphological change and quantitative approaches; an expanded chapter on language contact with new sections on pidgins and creoles, mixed languages, and endangered languages; new sections on the language families and language isolates of the world; examination of specific proposals of distant genetic relationship; and a new section on writing systems. With its clear, readable style, expert guidance and comprehensive coverage, "Historical Linguistics: An Introduction" is not only an invaluable textbook for students coming to the subject for the first time, but also an enlightening read for specialists in the field and non-specialists alike.
Key features: practical hands-on approach to the subject, including numerous student exercises; examples taken from a wide range of languages, including non-Indo-European languages, illustrate concepts and methods; engaging writing style combined with insightful coverage makes this an engrossing introduction; and, separate pdf 'Answer Key' is available for lecturers.
Free Home Delivery
on all orders
Pick up orders
from local bookshops