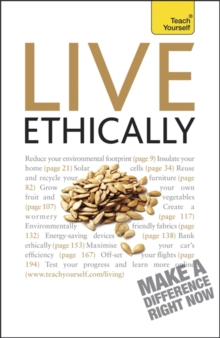 Live Ethically: Teach Yourself
Paperback / softback
Description
Is this the right book for me?Live Ethically will clear a path through the minefield of information available on green issues and give you everything you need to know in order to make informed choices about the goods, services and products you use on a daily basis.
Designed for anyone who wants to live more responsibly without huge effort or cost, it is a realistic guide to understanding the issues surrounding every area of consumer life, from clothing and food to energy saving and environmentally friendly travel.
Each section explains the pros and cons of every choice we make as householders, then shows the practical steps you can take to make changes that will really have an impact.
Live Ethically includes:Chapter 1: Basic ethicsWhat is 'ethical living'?Making ethical choicesEthical companiesEnvironmental issuesLifetime energy costs and savingsHow do you measure up?The cost of ethical livingThe good neighbourChapter 2: EnergyEnergy sourcesEnergy use in the homeSpace heatingWater heatingLightingInvest in the futureCookingChapter 3: Electrical appliancesEU energy labelsWashing machinesTumble dryersDishwashersFridges and freezersElectronic equipmentComputers... ...and printersHow much electricity are you using?Disposal and recyclingChapter 4: In the homeWater useCleaningHousehold wastePaints and varnishesFurnitureFloors and floor coveringsChapter 5: Food and drinkEnergy and food productionFood milesHow can I reduce my food miles?Organic foodFood wasteReducing your food wasteFood packagingFairtradeBottled waterChapter 6: ShoppingClothesGadgetsGiftsPlastic shopping bagsEthical retailers and shopping guidesChapter 7: MoneyBankingMortgagesEthical investmentChapter 8: MotoringDo you really need your car?Working with what you've gotTotal energy costsAlternative fuelsElectric (battery) carsWhich car?Chapter 9: Travel and tourismAir travelTourismLearn effortlessly with an easy-to-read page design and new added features:Not got much time?One, five and ten-minute introductions to key principles to get you started. Author insightsLots of instant help with common problems and quick tips for success, based on the author's many years of experience. Test yourselfTests in the book and online to keep track of your progress. Extend your knowledgeExtra online articles to give you a richer understanding of how to live ethically. Five things to rememberQuick refreshers to help you remember the key facts. Try thisInnovative exercises illustrate what you've learnt and how to use it.
Information
Format: Paperback / softback
Pages: 240 pages, b-and-w tables; screenshots
Publisher: John Murray Press
Publication Date: 29/01/2010
Category: Self-sufficiency
ISBN: 9781444101126
Also in the Teach Yourself - General series | View all