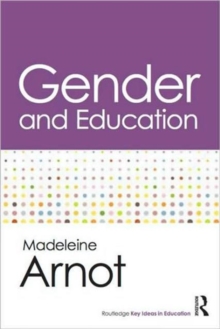 Gender and Education
Paperback / softback
Description
Understanding the field of gender and education today requires thinking more critically about paradigmatic models of gender and their goals for educational and social reform.
It involves recognizing that the international project of the women's movement of the 1960s and 1970s has had a deep influence in many countries, not just in those which are income rich.
In this context, it is important to think critically and analytically about how gender is conceptualized in both international and national policy making and research and the ways in which gender analysis in education can now contribute to the creation of emancipatory forms of gender relations, and global gender justice.
The aim of this introductory text from international authority Madeleine Arnot, is to understand where the field of gender and education is located at present, its strengths and weaknesses in terms of foci, its theoretical advance, its methodological sophistication and its policy relevance and impacts.
It provides a concise but comprehensive introduction to the progressive discussions in feminist theory and the role of education in relation to the structuring of familial, institutional, political and economic sites.
The book concludes by considering some of the contemporary challenges which gender and education as a field of scholarship and political action face in the context of international and global developments.
Ideal for courses in education studies, sociology, gender studies, women's studies, development studies, this valuable teaching resource is essential reading for anyone who wishes to read more about the controversies associated with gender issues in education and society.
Information
Format: Paperback / softback
Pages: 132 pages
Publisher: Taylor & Francis Ltd
Publication Date: 01/01/2020
Category: Gender studies: women
ISBN: 9780415803328
Also in the Routledge Key Ideas in Education series | View all