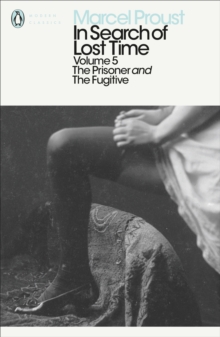 In Search of Lost Time : The Prisoner and the Fugitive
Paperback
Description
Since the original, prewar translation there has been no completely new rendering of the French original into English. This translation brings to the fore a more sharply engaged, comic and lucid Proust.
IN SEARCH OF LOST TIME is one of the greatest, most entertaining reading experiences in any language. As the great story unfolds from its magical opening scenes to its devastating end, it is the Penguin Proust that makes Proust accessible to a new generation.
Each book is translated by a different, superb translator working under the general editorship of Professor Christopher Prendergast, University of Cambridge.
Information
Format: Paperback
Pages: 720 pages
Publisher: Penguin Books Ltd
Publication Date: 02/10/2003
ISBN: 9780141180359
Free Home Delivery
on all orders
Pick up orders
from local bookshops
Reviews
Showing 1 - 2 of 2 reviews.
Review by zip_000
16/06/2015
My beginning and ending dates aren't accurate because I chose to read the two novels herein separately. The dates given are only for the Fugitive; I just can't recall when exactly I read The Prisoner - except that it was earlier this year.Review proper:Treating the two books here as separate novels, I have to make the awkward comparison of Proust novels to Star Trek movies. I just really enjoy the even numbered ones remarkable more than the odd numbered ones. I only have the last one left - which in my counting is number 7. My favorites - so far - would be "In the Shadow of Young Girls in Flower", followed by "Sodom and Gomorrah", then "Swann's Way", then "The Fugitive", "The Prisoner", and finally "Guermantes Way". So that's: 2, 4, 1, 6, 5, 3.Anyway, I found The Prisoner to be frustratingly repetitive at times. He loves her because he can't completely have her. He seems to completely have her, so he doesn't care for her any longer, but wait, he doesn't really have her after all, so he loves her again. etc. Obviously, there is a great deal that is still really exceptional here, but it was somewhat tedious. It has been several months since I finished The Prisoner so I am hard pressed to come up with a more detailed review than that. Reading some other reviews reminds me of the section concerning Morel and Charlus. I did find that section to be quite good. Charlus - until now such a pompous though somehow likeable character - just seems so sad and pathetic after the treatment he receives from Morel.I found The Fugitive to be much more rewarding. In particular his description of the loss of Albertine and his eventual recovery was just astonishing. The parts concerning Saint-Loup were great. The descriptions of Venice were great. I loved his reunion with Gilberte. I loved his awkward relationship with Andree. It's frustrating trying to write a review of something so beautiful, and your writing comes out so ugly.
 I don't know. I made it this far, but there just doesn't seem to be a lot going on here except for our narrator's endless ruminations on Albertine and his unhealthy obsessions. The section on Venice in "The Fugitive" was the high point for me.
Also in the Penguin Modern Classics series | View all