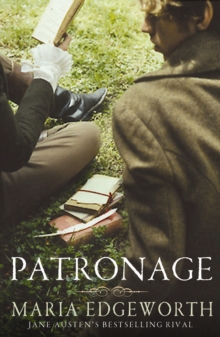 Description
With an introduction by John MullanMeet the Percys and Falconers, neighbouring families, each with three sons and two daughters to launch into Regency society.
The hardworking, independently minded and dutiful Percys are happy to work their way up in the world but are undermined by their scheming rivals who use patronage to grab at instant fame and fortune.
With their sons eased into lucrative but ill-suited diplomatic and clerical jobs, and their daughters bankrupting themselves to scale the heights of fashion, the Falconers are heading for a tumble; while the moral steadiness and strong family ties of the Percys allow them to attain both the heights of their chosen professions and a glittering match. A Regency bestseller with a clear message for our times.
Information
Format: Paperback
Pages: 608 pages
Publisher: Sort of Books
Publication Date: 01/07/2011
Category: Classic fiction (pre c 1945)
ISBN: 9780956308610
Other Formats
EPUB from £1.04
Hardback from £20.95
Paperback / softback from £15.49
Paperback from £18.45
Free Home Delivery
on all orders
Pick up orders
from local bookshops
Reviews
Showing 1 - 2 of 2 reviews.
Review by nessreader
16/06/2015
A mean and modern wouldbe writer might dismiss this monster epic as 600+ pages of tell not show. I'm thinking back to a certain writing site where that rule is god, hence my bringing the rule to mind now. It doesn't matter. There is so wide a world in this book that a bit of info-dumping must be endured.Also the sentence structure is more formal, harder to read than Austen, but it's worth it. It is enormously rewarding to read. You can see why Edgeworth mattered all through the 19th century to the reading public including the major novelists. It felt like a prototype of Victorian novels - all of them. At points I was thinking "Anthony Trollope got his clergy-on-the-make tribulations from this" or "Eliot and Gaskell and all the rest got their world in microcosm, all the social classes represented, thing from this" or "Yonge got tips on how to make ensemble dialogue forward a plot and expose character simultaneously here" The two brothers from the virtuous family (the doctor and the lawyer; the soldier is offstage for most of the story) are hard to tell apart but convincing enough nice (forgettable) young men. The secondary heroine Rosamond has an endearing Miss Bates line in babble. The chief heroine Caroline is a paper cutout dressadoll straight out of Burney; she is prim, self obsessed, at once excelling all others yet officiously humble, described as charming but never says a memorable or striking thing. Her father has the same personality with a little added pomposity to show he is a man. The baddies - a wonderful scheming mama generalling her daughters into worldly marriages, an embittered statesman and the aforementioned clergy who's gone to the dogs - have all the charisma and the comedy. The hero is the purest of stuffed shirts.The scope is magnificent, exhilarating - men's issues, women's concerns, economics and morality and anything else that came to mind was grist to her mill. The law niggles are poorly handled - inaccurate, apparently, though E made a great flourish of having included such arcane material. She certainly uses more dramatic and melodramatic elements than her contemporary Austen does - a shipwreck, a coup d'etat, bankruptcy, prison, politics. She goes from the individual to the abstract and bounces back again over and over, carving gender roles more untidily than some contemporary novelists do - her heroines are interested in politics (though, poor girls, only allowed speaking looks during the drawing room debates) and how fast, on making a new acquantance of the opposite sex, Edgeworth's young men as well as the women start gauging them as marriage partners, lovelorn and anxious for domesticity as they are. Entertaining beyond what I expected.
Review by AdonisGuilfoyle
16/06/2015
The cover of this repackaged edition of Maria Edgeworth's novel proclaims that the nineteenth century novelist was 'Jane Austen's bestselling rival' (presumably to hook new readers, like myself), but Jane's twenty-first century ranking and popularity are safe from the competition. I can read Austen's wordiest novel, <i>Emma</i>, again and again, but the highest praise I can bestow on <i>Patronage</i> is that the spine held up under pressure - not one crease! Maria Edgeworth has her moments, and shares flashes of the same wit and understanding of her 'bestselling rival', but this novel in particular is just too long, with flat characters, erratic pacing and too much undisguised pontificating on the vices and virtues of society. Austen engages the reader by creating lively and likeable heroines, dashing heroes, and sharply drawn observations of everyday life that are never out of date. Edgeworth lacks the same lightness of touch and depth of insight.The Percies are the stronger branch of a long-established, well-respected family, who live quietly and nobly on their country estate in Hampshire. Eldest son Godfrey is an officer, Alfred a solicitor, and <i>Erasmus</i> - I kid you not - a doctor. Daughters Caroline and Rosamund are eerily similar in word and deed to Elinor and Marianne in Austen's earlier novel <i>Sense and Sensibility</i>. The black hats are the Falconers - sons Buckhurst, Cunningham and John, with two spoiled and vulgar sisters, Georgiana and Arabella. Whereas the Percies all earn their saintly reputations and fortuitous career successes, the Falconers will beg, borrow and suck up to get ahead - the 'patronage' of the title, whether political or fashionable. The Percies are good, well-bred, liberal-minded scions of English nobility, virtually a blessing away from sainthood, and the Falconers are low-born, undeserving connivers and finaglers. That, bar a handful of Dickensian plot devices - stolen inheritances, espionage, long-lost children, a shipwreck and a house fire - is the crux of the story. The Percies might be betrayed, slandered, uprooted and imprisoned, but justice always prevails in the end, so - like the characters themselves, who are either all bad or wholly good - there are no surprises.That said, apart from constantly wanting to slap Saint Caroline, who was even more stoic and pure-hearted than Elinor Dashwood and Fanny Price rolled into one, I did enjoy some of the ensemble cast, and Maria Edgeworth can be witty on occasions. She asserts that 'true' heroines should have a 'finely proportioned person, but never a well-proportioned mind', and 'good people are acknowledged to be the bane of the drama and the novel', but notes that 'young ladies generally like and encourage men of feeling' over 'men of principle'. Her characters also snidely claim that the 'radiance of fashion' can make ugly and stupid girls instantly attractive, and that 'it requires two generations, at least, to wash out the stain of vulgarity' (Emma Woodhouse would be proud!) My favourite quote, however, is from Lady Jane, who could out-interfere Lady Russell from <i>Persuasion</i>: 'You have plenty of gold, but no ready change about you' (of those who hate to make smalltalk).<i>Patronage</i> is a worthy, interesting and amusing novel in parts, but about three hundred pages too long, I'm afraid - unless Maria Edgeworth was being paid by the word, like Dickens!