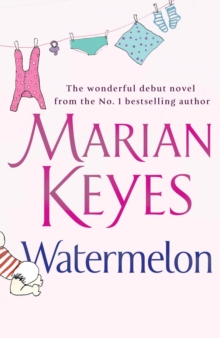 Description
Claire has everything she ever wanted: a husband she adores, a great apartment, a good job.
Then, on the day she gives birth to her first baby, James tells her that he's having an affair.
Claire is left with a beautiful newborn daughter, a broken heart, and a body that she can hardly bear to look at.
So, in the absence of any better offers, she decides to go home to her family in Dublin.
Sheltered by the love of her quirky family, and the attention of an incredibly attractive younger man, Claire gets better.
A lot better. In fact, so much better that when James slithers back into her life, he's in for a surprise.
Information
Format: Paperback
Pages: 528 pages
Publisher: Cornerstone
Publication Date: 07/07/2005
ISBN: 9780099489986
Other Formats
Paperback from £6.99
Hardback from £15.09
EPUB from £1.99
Free Home Delivery
on all orders
Pick up orders
from local bookshops
Reviews
Showing 1 - 4 of 4 reviews.
Review by urduha
16/06/2015
Marian Keyes is a guilty pleasure, like surfing celebrity gossip sites, or watching 1980's Sharon Cuneta movies. And like any guilty pleasure, you are hooked for a time, then you're done and wondering "why did I do that? i am not any smarter, any happier, any more insightful or any better equipped to navigate my life, than when I started." Claire is cute, but not as smart as she thinks she is. I actually like her character better in the other books about her sisters. She is better in smaller doses.
Review by bluemist
16/06/2015
My second Marian Keyes Book. I absolutely loved the last book "Other side of the story". "Watermelon" somehow missed that grip. Even though the style of funny; yet I could not bring myself to love it. I would give it 2 out of 5 stars.
Review by ashpapoye
16/06/2015

Disclaimer: I did not finish reading this book.

Honestly ? I can't imagine how anyone could.

Here's the scene: Silly girl(let's call her that, shall we ?) has a baby. Husband leaves her within hours of baby. First of all, who does that ? The woman just now had your child. She was in labor for twenty four hours or so she claims. TWENTY FOUR HOURS, A PERSON THE SIZE OF A WATERMELON WAS TRYING TO GET OUT OF SOMETHING THE SIZE OF A LEMON. What Universe tells you it's ok to leave a woman at that point ?

If you'd left her because she was the silliest thing on the planet, I'd understand. But not this. You couldn't tell her when she was pregnant because you thought she'd miscarry ? Well, it is totally okay for you to abandon your one day old daughter. Because how is that going to affect either of them, right ? I mean, so the woman just gave birth. How is that going to change anything ? BEHAVE LIKE THE GROWN MAN THAT YOU'RE SUPPOSED TO BE.

So, husband leaves her. No one else is at the birth or after. No mother, no other relatives. NOT EVEN BEST FRIEND, JUDY. What kind of best friend are you, anyway ? But then again, they were probably all tired of silly girl.

Best friend is worst best friend in the world. She knew that husband was going to leave SG for some random Denise through gossip and she didn't tell her. Yeah, ok. That's totally not what any decent human being would do. Despite pregnancy, Claire had a right to know. She could have dealt with things better if she'd known.

And for the love of god, you are not Scarlett O'Hara. Do not make any Scarlett-esque statements. You're just a SG who thinks she's being funny and quirky because she quit a good job to take a shitty one to live like an irresponsible student. Yeah, ok.

And this: ---"But what have you been doing for the past nine months?" Judy sounded shocked. "You must have thought of some names."


"I did," I said, my lip starting to tremble. "But I thought of them with James. And it wouldn't feel right to call her one of those names."


Judy looked a bit annoyed with me. But I was on the verge of tears again, so she didn't say anything further.---

PERFECTLY UNDERSTANDABLE. BAD BEST FRIEND.

This book annoyed me like hell.

And this ----

In the few weeks before I gave birth I had been absolutely enormous.


Completely circular. The fact that the only thing that fit me was my green wool jumper, coupled with the fact that due to continuous nausea my face was always green, gave me the appearance of a watermelon who had put on a pair of boots and a bit of lipstick.


Now, although I was no longer green, I still looked like a watermelon in every other respect.


What was happening to me? Where had the real me and my real life gone? ----

YOU GAVE BIRTH. FOR THE LOVE OF GOD, THAT'S WHAT HAPPENS WHEN YOU GET PREGNANT.

I can't take this anymore.


Review by paulinewiles
16/06/2015
I can't believe I'm only giving 3 stars to a novel by Marian Keyes. If you've never read anything else by this author, please don't judge her based solely on this book, which I understand to be her first.<br/>In Watermelon, the pace is off (very little happens for the first ten chapters) and there were several places where Keyes seemed to take two paragraphs to make a point which could have been contained in one. And for me, the errant husband is also just a little too awful to be credible.<br/>All that said, Keyes' writing voice is catchy, engaging, and the wit is as sharp as a needle. I loved her other work, admire her greatly, and will continue to be a loud supporter.<br/>