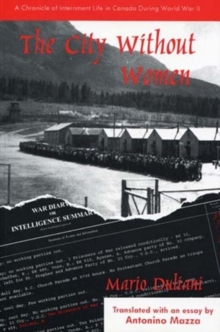 City without Women : Chronicle of Internment Life in Canada During World War II
Paperback / softback
Description
The events which began in June, 1940 and in time led to the internment of several hundred Italian-Canadians have become in recent years a more rlevant part of history for all Canadians.
Internment, because of its harsh intrusion on individual and family life, matters not simply to the interned but to citizens of the country carrying on the internment.
One man who was interned, Montreal writer Mario Duliani, wrote an account of tose many, long months in the internment camp but because he did not write in English, his work was unread by the majority of Canadians for whom English is the only tongue.
Now, thanks to Antonino Mazza, Duliani's book, The City Without Women, with its sad, telling description of internment life, can be read by the many thousands of people who ought to have read it, but did not or could not.
Mr. Mazza brings to his task not only an understanding of language, but of the creative gift which is necessary to translation.
His work is informed by compassion and commitment and we should be grateful that he has undertaken it.
At last, The City Without Women has the audience it has so long been denied.
Information
Format: Paperback / softback
Pages: 157 pages
Publisher: Mosaic Press
Publication Date: 28/01/1994
Category: European history
ISBN: 9780889625303