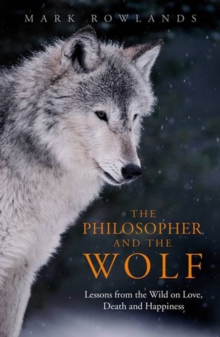 The Philosopher and the Wolf
Paperback
Description
This fascinating book charts the relationship between Mark Rowlands, a rootless philosopher, and Brenin, his extraordinarily well-travelled wolf.
More than just an exotic pet, Brenin exerted an immense influence on Rowlands as both a person, and, strangely enough, as a philosopher, leading him to re-evaluate his attitude to love, happiness, nature and death.
By turns funny (what do you do when your wolf eats your air-conditioning unit?) and poignant, this life-affirming book will make you reappraise what it means to be human.
Information
Format: Paperback
Pages: 256 pages
Publisher: Granta Books
Publication Date: 04/05/2009
Category: Memoirs
ISBN: 9781847081025
Free Home Delivery
on all orders
Pick up orders
from local bookshops
Reviews
Showing 1 - 4 of 4 reviews.
Review by michalsuz
16/06/2015
Well-written, well-paced, not always wise, but interesting as a fast read...The relationship with the wolf is the great thing here, and some may also enjoy a rapid overview of philosophical ideas concerning the meaning of life.A weak ending, like a Hollywood movie, even if true to life.
Review by haled
16/06/2015
A disturbing book in ruthlessly stripping away one's assumptions about oneself, the meaning of our lives and what we think of as happiness. The final two chapters struck home particularly and were very affecting. At times it reminded me of less reverential approaches such as Douglas Adams and the meaning of the Universe being 64. Philosophy is difficult but it can also be very simple. The moments when one sees what he is saying are well worth then effort. Having come to this because of an interest in wolves I have ended with a renewed interest in philosophy.
Review by djalchemi
16/06/2015
There are some profound ideas in this book. Right near the beginning, Rowlands sets out his central distinction between us apes who can't help but weigh and balance, and see things in instrumental terms towards longer term goals. The wolf, he says, doesn't count the cost. The weaker passages are when we get more philosopher and less wolf. Then it all gets a bit School of Life (you know: morals and codes adumbrated with a bit of choice name dropping). Rowlands says he's a big fan of Milan Kundera's Unbearable Lightness of Being, but the former's treatment of Nietzsche's ideas of eternal return is not woven into his story with anything like the elegance of the latter. When Rowland is reflecting (on) his own career he gets a bit boring and boorish. But the bits where he follows the animal, to use Harold Garfinkel's phrase, make the book worth reading.
Review by diovival
16/06/2015
The best thing about this book had nothing to do with the author's contribution. I was visiting with a friend's family in Ireland and her stepdad was nice enough to let me borrow his copy. I could see all the red scribbles, circles, underlines, and notations he made throughout the book as I read. It can be fun to follow the leave-behinds of a previous reader. He clearly enjoyed the book more than I did. It wasn't a bad book per se...I just found it really difficult to relate to the author. <br/><br/>To sum up the book: People bad. Wolves great.<br/><br/>