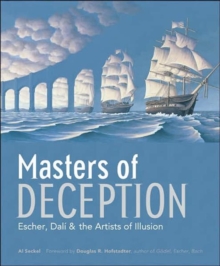 Masters of Deception : Escher, Dali & the Artists of Optical Illusion
Paperback / softback
Description
This work contains rings of seahorses that seem to rotate on the page, and butterflies that transform right before your eyes into two warriors with their horses.
These dazzling and often playful artistic creations manipulate perspective so cleverly that they simply outwit our brains: we can't just take a quick glance and turn away.
From Escher's famous and elaborate "Waterfall" to Shigeo Fukuda's "Mary Poppins," where a heap of bottles, glasses, shakers, and openers somehow turn into the image of a Belle Epoque woman when the spotlight hits them, these works of genius will provide endless enjoyment.
Information
Format: Paperback / softback
Pages: 320 pages
Publisher: Sterling Publishing Co Inc
Publication Date: 01/08/2007
Category: Art forms
ISBN: 9781402751011