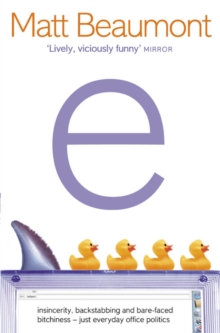 Description
An unforgettable first novel, an author to shout about, a campaign to ensure that everyone knows this is the funniest, sharpest read of the year. Consisting entirely of staff emails, e spends a fortnight in the company of Miller Shanks, an advertising agency that scales dizzying peaks of incompetence.
Among the cast are a CEO with an MBA from the Joseph Stalin School of Management, a Creative Director who is a genius, if only in his own head, designers and copywriters driven by breasts, beer or Bach Flower Remedies, and secretaries who drip honey and spit blood. The novel is a tapestry of insincerity, backstabbing and bare-arsed bitchiness: that is to say, everyday office politics.
Oh yes, and there is some work to be done too - the quest for advertising's Eldorado, the Coca-Cola account. e is sleazy, scurrilous and scabrously funny.
It also contains a first-class joke about the Pope and sound advice on the maintenance of industrial carpet tiles.
Information
Format: Paperback
Pages: 352 pages
Publisher: HarperCollins Publishers
Publication Date: 04/09/2000
ISBN: 9780007100682
Free Home Delivery
on all orders
Pick up orders
from local bookshops
Reviews
Showing 1 - 3 of 3 reviews.
Review by Caram
16/06/2015
Very funny and easy to read
Review by MelmoththeLost
16/06/2015
A truly hilarious novel set in the London branch of a fictional international advertising company staffed by all the disfunctional incompetents you could ask for. A reader who's ever worked in the industry, however briefly, will readily recognise this cast of characters. Anyone who's ever worked anywhere will recognise the "sad git in accounts".
Review by magemanda
16/06/2015
This was a blast of a read. We join the advertising agency of Miller Shanks in the dawn of a new millenium, and follow the various staff members during the month of January as they chase a pitch for Coke. The novel is told entirely in the form of emails between the various characters.The style of the book creates an extremely fast, easy read which is exceptionally hard to put down. Once you have got each character straight in your mind, you are able to zip through the emails. For anyone who works in an office, it is easy to see each stereotypical character in your own workplace - particularly Ken Perry (the office administrator who believes he is in charge of the entire building) and Nigel (the creep who works in accounts and sends out company-wide emails trying to sell various undesirable items).It really surprised me that Beaumont was able to create such strong characters while using the format he did. Even though there was no narration as such, each character came across extremely effectively. While hating them, I loved reading the emails between Simon Horne and his PA Susi - extremely funny.In fact, the whole novel (while not laugh-out-loud) was very amusing and I read it with a smile on my face. The office politics, back-stabbing, office romances - everything was very familiar and hence a joy to read about. In fact, my only real complaint comes from the sheer amount of swearing on display. Sure, it made a lot of the gossipy emails much more realistic, and I reckon advertising agencies do use that sort of language, but it was pretty relentless - especially with some of the wide-boy characters writing to each other.Altogether, though, I would recommend this book as a nice little interlude between more serious and worthy novels. It was easy to read, very funny and had a happy ending!