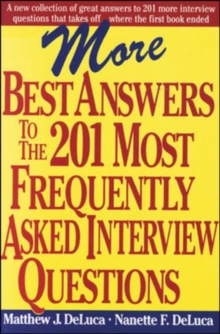 More Best Answers to the 201 Most Frequently Asked Interview Questions
Paperback
Description
Let your next job interview be your last! It may seem like the cyber world has taken over the job hunting process with everything from Internet job postings to interactive application forms.
But whether you are new to the job market or climbing up the corporate ladder, one thing will never be replaced, that face-to-face dealmaker - or breaker: the interview.
Have you been out of work for awhile or are you new to the job market?
Does your employment history have a few wrinkles in it that need some creative explaining, or did that last job not last that long?
Now the authors of the highly successful "Best Answers to the 201 Most Frequently Asked Interview Questions", uncover interview questions with answers at the next level, the next level, from the seemingly casual pre-interview questions that are your key to getting a foot in the door to those tricky interview questions about your unique situation.Let the games begin: The Preparation Ask yourself first - utilize dozens of worksheets and exercises to organize your goals and focus on your accomplishments. Landing the interview - Strategic Networking 101 Research, Research, Research - learn even more about the company than your interviewer knows.
In the thick of it: The Interview Different types of interviews - and what you can expect to happen at each.
Difficult questions - effortlessly field tough ones about your job history.
Marketing yourself - why you are the one who can be the solution to their needs.
When the dust settles: The Follow-up, the Second Interview - Preparing for the next round.
Negotiation - get the right package for you.Not everyone is out there searching for a job for the same reasons - a generic cookie-cutter interview manual won't help you with your unique set of issues.
Through solid advice, thought provoking questions and success stories the DeLucas teach you how to focus your energy and skills to make the best possible impression and walk away with the golden egg - your dream job.
Free Home Delivery
on all orders
Pick up orders
from local bookshops