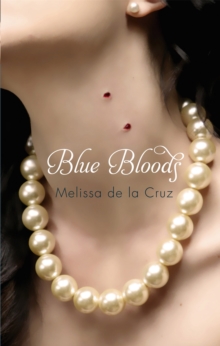 Blue Bloods : Number 1 in series
Paperback
Description
They're Young, Fabulous and Fanged. . .And they rule Manhattan from the trendy uptown clubs to the downtown boutiques.
Fifteen-year-old Schuyler Van Alen has never quite fit in at her exclusive prep school - she's more of a vintage than a Versace girl - but all that's about to change. . .Because Schuyler has just found out she's a Blue Blood.
The Blue Bloods are the city's glamorous - and secret - vampire elite.
They're young, beautiful and powerful. But now they're being murdered. And Schuyler must find out who - or what - is behind it before she's next.
Information
Format: Paperback
Pages: 336 pages
Publisher: Little, Brown Book Group
Publication Date: 01/02/2010
Category: General
ISBN: 9781905654741
Free Home Delivery
on all orders
Pick up orders
from local bookshops
Reviews
Showing 1 - 4 of 4 reviews.
Review by wyvernfriend
16/06/2015
The idea of there being a vampire elite who have a secret society going on is interesting. The idea that they have built up structures to protect them and their helpers is quite believable. That they would be rich and spoilt, also believable. The relationship between some of the twins is a bit off.Schuyler is at an exclusive prep school and doesn't quite fit in. She finds out that she's a blue-blood, this worlds variant of vampires, where blood carries memories. When some of the other young vampires start dying, Schuyler investigates because it looks like she may be next.It's pretty complicated and involved and the characters are quite interesing, I'm looking forward to the next in the series.
Review by debrasbookcafe
16/06/2015
An excellent start to the series. I absolutely loved this book...
Review by nicola26
16/06/2015
I really enjoyed this one. There are so many teen vampire books floating around the place lately, but this was certainly one of the best I've picked up. I wasn't very fond of Schuyler, though. She had no solid character- her personality seemed to change depending on what the situation needed. I thought she was cute and quirky up until it said she hadn't washed her hair in weeks, at which point it stops being quirky and quickly becomes plain disgusting. All in all, though, a very interesting take on vampires.
Review by 26kathryn
16/06/2015
I enjoyed this book and I'm looking forward to seeing what happens next in the series. The plot was interesting and I definitely want to know more about the mysteries surrounding the blue bloods and silver bloods.One thing that got on my nerves a bit with this book was the constant descriptions of expensive clothes, furniture, food, etc. Okay, they're rich, I get it, you don't have to rub it in my face every five seconds! Also I didn't really feel much of a connection to the characters. I kind of liked Schuyler and Oliver, but the other characters were a bit bland.On a positive note, I did like the way that there was a historical connection between the vampires and the early American settlers. I also enjoyed the whole cover-up/conspiracy side of the story because I'm into things like that.
Also in the Blue Bloods series | View all