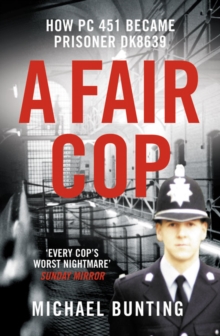 Description
The true story of a young police officer's imprisonment for a crime he did not commitIt was Michael Bunting's life ambition to follow in his father's footsteps and become a police officer.
But six years after his family watch him pass out and begin his life's dream, he is serving a sentence for a crime he didn't commit.
This is his story.Beaten almost senseless as he tried to arrest a violent criminal, the 23-year-old PC was left with head injuries and blurred vision that took him months to recover from.
Back at work he was astounded to learn that his attacker had filed a complaint against him and that the Police Discipline and Complaints Department were following up the allegation.Two years later he was found guilty of common assault against his assailant and received a prison sentence that left him living his devastated life amongst the criminals he had previously sought to keep off the streets.
Hard-hitting and at times heart-breaking the book is a graphic account of life behind bars for a policeman in one of England's hardest prisons.An extract from A Fair Cop:"The prisoner arrived once more with the trolley and placed the plate of food on to my hatch. 'Bunting,' he shouted pleasantly. I wasn't fooled. 'Thanks,' I said, as I walked across the cell to collect it.
As I put my hand out to reach for the plate he snatched it away.
He held it up to the hatch and peered through at me. 'PC Bunting, isn't it?' he asked, and then took a deep breath to muster as much saliva from the back of his throat as he could.
With one swift movement he spat a big glob in to the middle of the food.
The white phlegm floated around in brown gravy. 'Hey lads, I'm feeding the pig,' he said. With this, two other prisoners came to my cell hatch.
They looked at me, sniggering. They then spat in my food too. The first prisoner put the plate on the hatch and gestured for me to come closer. 'You're in our territory now, you f***ing filth, and we're gonna f***ing carve you up.'
Information
Format: Paperback
Pages: 352 pages
Publisher: HarperCollins Publishers
Publication Date: 25/06/2009
Category: True stories
ISBN: 9781906321925
Free Home Delivery
on all orders
Pick up orders
from local bookshops
Reviews
Showing 1 - 1 of 1 reviews.
Review by Mike-Fitzgibbons
16/06/2015
This is the true story of a British Police Officer, who was convicted and sent to prison for common assault. Whilst doing his duty and under attack. He was frightened, disorientated, bleeding, spitting out teeth, unable to see properly and hurting all over his head and face. Whilst his assailant continued to punch him. The assault was made as he tried to defend himself. This shamefull prosection and conviction had been made despite the fact that his assailant. Who he had been defending himself against, had been convicted of assaulting the Police Officer.A lot of people in the public eye, such as the West Yorkshire Police and the Crown Prosecution Service should hang their head in shame at this travesty of justice. Justice that they are supposed to uphold.Michael has his own blog "A Fair Cop" he is currently writing a second book "The Dark Side." As he proceeds towards clearing his name. The Criminal Cases Review Commission is now considering an application so that he can finally get to the Court of Appeal.Enthralling from start to finish.