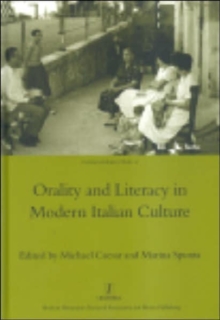 Orality and Literacy in Modern Italian Culture
Hardback
Description
In our highly literate culture, orality is all-pervasive.
Different kinds of media and performance - theatre, film, television, story-telling, structured play - make us ask what is the relation between improvisation and premeditation, between transcription and textualization, between rehearsal, recollection and re-narration.
The challenge of writing down what is spoken is partly technical, but also political and philosophical.
How do young writers represent the spoken language of their contemporaries?
What are the rules governing the transcription of oral evidence in fiction and non-fiction?
Is the relationship between oral and written always a hierarchical one?
Does the textualization of the oral destroy, more than it commemorates or preserves, the oral itself?
Twelve wide-ranging essays, the majority on contemporary Italian theatre and literature, explore these questions in the most up-to-date account of orality and literacy in modern Italian culture yet produced. With the contributions: Michael Caesar, Marina Spunta- Introduction Michael Caesar- Voice, Vision and Orality: Notes on Reading Adriana Cavarero Arturo Tosi- Histrionic Transgressions: The Dario Fo-Commedia dell'Arte Relationship Revisited Gerardo Guccini- Le poetiche del 'teatro narrazione' fra 'scrittura oralizzante' e oralita-che-si-fa-testo Richard Andrews- Composing, Reciting, Inscribing and Transcribing Playtexts in the Community Theatre of Monticchiello David Forgacs- An Oral Renarration of a Photoromance, 1960 Alessandra Broccolini- Identita locali e giochi popolari in Italia tra oralita e scrittura Marina Spunta- The Facets of Italian Orality: An Overview of the Recent Debate Kate Litherland- Literature and Youth in the 1990s: Orality and the Written in Tiziano Scarpa's Cos'e questo fracasso? and Caliceti and Mozzi's Quello che ho da dirvi Elena Porciani- Note su oralita e narrazione inattendibile Marco Codebo- Voice and Events in Manlio Calegari's Comunisti e partigiani: Genova 1942-1945 Hanna Serkowska- Oralita o stile?La trasmissione orale e le modalita narrative ne La Storia di Elsa Morante Catherine O'Rawe- Orality, Microhistory and Memory: Gesualdo Bufalino and Claudio Magris between Narrative and History
Information
Format: Hardback
Pages: 184 pages
Publisher: Taylor & Francis Ltd
Publication Date: 01/03/2006
Category: Dance & other performing arts
ISBN: 9781904350736
Other Formats
EPUB from £55.55
PDF from £55.55
Free Home Delivery
on all orders
Pick up orders
from local bookshops