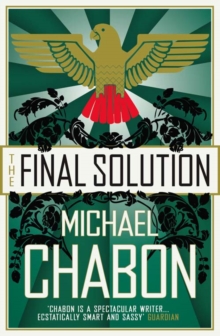 The Final Solution
Paperback
Description
A brilliant reworking of the detective story by the much-acclaimed Michael Chabon, author of the Pulitzer Prize-winning THE AMAZING ADVENTURES OF KAVALIER & KLAY.In THE FINAL SOLUTION, Michael Chabon has crafted a short, suspenseful tale of compassion and wit that reimagines the classic 19th-century detective story.In deep retirement in the English countryside, an 89-year-old man, vaguely remembered by locals as a once-famous detective, is more concerned with his beekeeping than with other people.
Into his life wanders Linus Steinman, nine years old and mute, who has escaped from Nazi Germany with his sole companion: an African grey parrot.
What is the meaning of the mysterious strings of German numbers the bird spews out?
A top-secret SS code? The keys to a series of Swiss bank accounts perhaps? Or something more sinister?Is the solution to this last case - the real explanation of the mysterious boy and his parrot - beyond even the reach of the once-famed sleuth?
Subtle revelations lead the reader to a wrenching resolution.
This brilliant homage is the work of a master storyteller at the height of his powers.
Information
Format: Paperback
Pages: 128 pages
Publisher: HarperCollins Publishers
Publication Date: 10/12/2005
ISBN: 9780007196036
Free Home Delivery
on all orders
Pick up orders
from local bookshops
Reviews
Showing 1 - 5 of 5 reviews.
Review by tedmahsun
16/06/2015
A wonderful homage to a certain famous detective. Now an old man, the detective must summon his failing powers when a parrot that squawks out mysterious numbers and a mute Jewish boy who escaped from Nazi Germany enter his life. A good story though ending is a little unsatisfactory and story is too short. Also, the archaic twist-abouts of language employed may turn off "modern" readers.
Review by catsalive
16/06/2015
A geriatric Sherlock Holes, eh? I can imagine him whiling away his retirement years tending his bees, & becoming more cantankerous with each passing year. An interesting little mystery. I can hear those trains passing...
Review by pokarekareana
16/06/2015
The beekeeper is eighty-nine, and deep into retirement from his career as a detective. War rages in Europe, but his corner of southern England remains sleepily isolated from it, until Linus Steinman and his African grey parrot arrive. The parrot recites numbers in German. Linus himself is unable or unwilling to speak. When someone is killed, the beekeeper finds himself drawn in.I found this disappointing. I was expecting something more, but this seems to be one of those books that never quite lives up to its potential. Chabon has a beautiful way with words, but overall I think the book probably needed to be a bit longer to develop the story and the characters more fully – this plot didn't work well as a novella, for me.
Review by adrianburke
16/06/2015
No. Some of the writing reminds me of Flann O'Brien's 'The Third Policemen' but I think this is pretty wilful whimsy. Wilful inasmuch as I ask myself, "How could he?" As in how could the author chain himself to his desk long enough to commit this?
Review by eleanor_eader
16/06/2015
A short, fine - if not always entirely convincing - Sherlock Holmes pastiche in which a young, mute, Jewish boy loses his rare pet African parrot and a lodger of the family with whom he is staying is killed. I say 'not entirely convincing', but mean only the set-up; the writing and handling of the unnamed detective are wonderful, and there is, towards the end, the most marvellous passage written from the point of view of the parrot itself that absolutely astounded me, it was so evocative. Chabon draws mystery, character and motives in masterful strokes, and tackles this post-career case with profound respect.I enjoyed the story, but for its brevity, was surprised to see it published alone. I don't think I'd have paid full price, had I not found it in a charity shop (with full apology to Mr. Chabon for this conclusion).