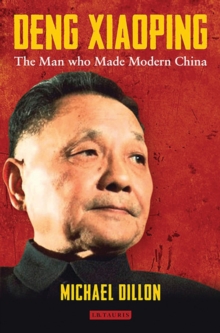 Deng Xiaoping : The Man Who Made Modern China
Hardback
Description
One of the most important figures in global politics during the second half of the 20th century; Deng Xiaoping is generally considered the central figure behind China's economic liberalization programme that produced historically unprecedented growth rates and development beginning in the late 1970s.
Lifting nearly a billion people out of poverty, Deng Xiaoping's 'Four Modernisations' called for reform in agriculture, industry, military, and science and technology.
Today these reforms are considered to be the crucial turning point in modern Chinese history, enabling China to effectively harness its previously-latent power in its quest to become a global economic superpower.
Just ten years after this tremendous achievement, Deng's brutal suppression of the democracy movement at Tiananmen Square severely undermined his international and domestic reputation. To explain the seeming contradictions between Deng Xiaoping's desire for economic liberalization and political conservatism, Michael Dillon's biography utilizes recently-released Chinese sources to detail Deng Xiaoping's emergence from a minority, second-class community in the Sichuan province, via education in France, to his meteoric rise to the top of the CCP's political hierarchy, illustrating the ways in which his life of struggle and survival shaped his political career.
Dillon's biography addresses Xiaoping as both an intensely committed communist capable of playing a principal role in the Great Leap Forward from 1958 to 1961, while incurring the wrath of Mao only ten years later as he was exiled and purged during the Cultural Revolution.
Emphasizing Deng Xiaoping's effectiveness as a party operator and political bruiser rather than an intellectual capable of formulating the reforms for which he eventually took credit, this book sheds light on Deng's ability to capitalize upon the planning expertise of other party members. This biography of the central figure in China's economic liberalization is essential for any reader interested in or affected by China's rise to global prominence.
Information
Format: Hardback
Pages: 352 pages, 21 bw in 16pp plates
Publisher: I.B.Tauris & Co. Ltd.
Publication Date: 30/10/2014
ISBN: 9781780768953
Other Formats
PDF from £8.99
EPUB from £8.99
Free Home Delivery
on all orders
Pick up orders
from local bookshops