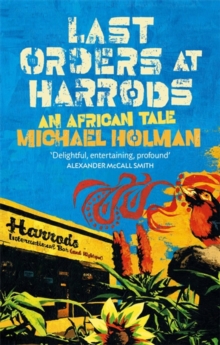 Last Orders at Harrods : An African Tale
Paperback
Description
Charity Mupanga is the widowed owner of Harrods International Bar (and Nightspot) - a favourite meeting place for the movers and shakers of Kibera.
While she can handle most challenges, from an erratic supply of Worcestershire sauce, the secret ingredient in her cooking, to the political tensions in East Africa's most notorious slum and a cholera outbreak that follows the freak floods in the state of Ubuntu, some threatening letters from London lawyers are beginning to overwhelm her.
Well-meant but inept efforts to foil the lawyers by Edward Furniver, a former fund manager who runs Kibera's co-operative bank, bring Harrods International Bar to the brink of disaster, and Charity close to despair.
In the nick of time an accidental riot, triggered by World Bank President Hardwick Hardwicke's visit to the slum, coupled with some quick thinking by Titus Ntoto, the 14-year-old leader of Kibera's toughest gang, the Mboya Boys United Football Club, help Charity - and Harrods - to triumph in the end.
Information
Format: Paperback
Pages: 320 pages
Publisher: Little, Brown Book Group
Publication Date: 01/03/2007
ISBN: 9780349120096
Free Home Delivery
on all orders
Pick up orders
from local bookshops
Reviews
Showing 1 - 2 of 2 reviews.
Review by johnthefireman
16/06/2015
This book has been likened to Alexander McCall Smith's delightful series, and has been positively reviewed by him.In some ways it is. It is a good story, written by someone with an understanding of Africa, with humour and insight. However it is more cynical than Smith's works, and foreigners feature more prominently in the plot. Few authors seem to believe that a novel about Africa will sell unless it contains some significant European and/or north American characters.The fictional country of Kuwisha gives itself away with the simple transposition of letters in names like "Kireba" and "Thumaiga". "Mungiki" apparently defied attempts to change it. But I wonder why so many authors feel the need to create fictional African countries? When was the last time you read a contemporary novel set in a fictional European country?The author's cynical treatment of NGOs and the media is refreshing. However his assumption that the president of Kuwisha would concern himself personally over the schemes of a single fairly junior foreign correspondent doesn't stand up. It may have been true in the past, and may still be true of some smaller and less developed African nations, but the real "Kuwisha" has moved beyond that.Well worth reading, and some good insights, but somehow the author hasn't quite got it right.
Review by PilgrimJess
16/06/2015
A book of stereotypes.I enjoy reading books about history and in particular social history and that is one of the main reasons that I picked this book not initially realising that it was the first in a trilogy (not the first time I've done that). The Harrods in the title is a bar made of two cargo containers in the slum of a capital of a fictional African country of Kuwisha run by the kind hearted but sharp widow Charity Mupanga who feeds and gives rudimentary lessons to the local street urchins in return for them helping her out around her bar. When her bar is mentioned in a London newspaper the Knightsbridge Harrods decides to threaten her with court action for using its name. Charity Mupanga is very similar in many ways to Precious Ramotswe of Alexander McCall Smith's excellant books who apparently advised Holman with his book.However, this is only one very slender thread of the overall plot. There is a whole pile of stereotypical characters from bumbling diplomats, to cynical and manipulative news correspondants and press gurus, tough canny pickpocketing street urchins, prim up-tight aid workers and pantomime villain corrupt politicians to name but a few. Harrods Bar and International Nightspot may be the centre of the plot it is really the urchins Ntoto and Rutere who are the real heros of it as they strggle to survive from one day to the next.The book is in many ways a critique of the inadequacies of the Western Aid programme and their agencies where an outbreak of cholera is celebrated because it will mean more funding which will then be squandered whereas the local banking co-operative seems to be working well. There is much talk of 'Ownership' by the locals of the various Aid programmes but what this really means is having a local as the face of the programme who can then be blamed when things go inevitably wrong.Holman lived for many years in Zambia and has obviously used his experiences to good use as background colour and there are certainly some very comical elements to the story but in the end I feel that he lets a certain resentment about the state of modern African politics show through which to a certain extents detracts from the main story which is a real shame. Overall an interesting introduction to the trilogy but rather falls short of either Evelyn Waugh's wit of McCall Smith's humanity.