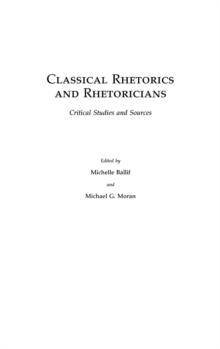 Classical Rhetorics and Rhetoricians : Critical Studies and Sources
Hardback
Description
The engaging political speeches and persuasive writing of today are carefully crafted instances of rhetoric.
The governing theories behind contemporary speakers and writers are deeply rooted in the classical world, where such great thinkers as Aristotle, Cicero, and Quintillian formulated strategies for effective discourse.
This book includes alphabetically arranged entries on some 60 leading rhetoricians of antiquity, with each entry providing biographical information, a discussion of the rhetorician's works and theories, and primary and secondary bibliographies. Because of the lasting influence of these thinkers, this book is an essential guide to the foundations of modern expression. Political speeches and persuasive writing are central to our modern democratic society and are carefully crafted to influence our thoughts and opinions.
But what many people do not realize is that the theories behind such works are deeply rooted in the classical world.
The great philosophers and statesmen of Greece and Rome formulated rules and strategies for effective argumentation, and their writings shaped the history of Western civilization for centuries. Because citizens of the modern world are exposed to so many attempts to influence their views, the theories of the ancient rhetoricians are as relevant today as in antiquity.
This book is a guide to the lives and works of these influential classical figures. Each entry is written by an expert contributor and provides a biography, a discussion of the rhetorician's works, and primary and secondary bibliographies.
While some of the figures are relatively minor, others are among the most important names from classical civilization.
The volume gives special attention to the contributions of women to ancient rhetoric.
An introductory essay sketches the rough outline of classical rhetoric and its influence, while a bibliographical essay identifies the most important general works for further reading.
Information
Format: Hardback
Pages: 414 pages
Publisher: ABC-CLIO
Publication Date: 30/03/2005
ISBN: 9780313321788
Free Home Delivery
on all orders
Pick up orders
from local bookshops