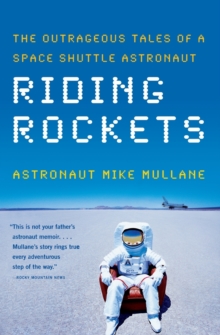 Riding Rockets : The Outrageous Tales of a Space Shuttle Astronaut
Paperback
Description
Selected as a Mission Specialist in 1978 in the first group of shuttle astronauts, Mike Mullane completed three missions and logged 356 hours aboard the Discovery and Atlantis shuttles.
It was a dream come true. As a boy, Mullane could only read about space travel in science fiction, but the launch of Sputnik changed all that.
Space flight became a possible dream and Mike Mullane set out to make it come true.
In this absorbing memoir, Mullane gives the first-ever look into the often hilarious, sometime volatile dynamics of space shuttle astronauts - a class that included Vietnam War veterans, feminists, and propeller-headed scientists.
With unprecedented candour, Mullane describes the chilling fear and unparalleled joy of space flight.
As his career centred around the Challenger disaster, Mullane also recounts the heartache of burying his friends and colleagues. And he pulls no punches as he reveals the ins and outs of NASA, frank in his criticisms of the agency.
A blast from start to finish, Riding Rockets is a straight-from-the-gut account of what it means to be an astronaut, just in time for this latest generation of stargazers.
Information
Format: Paperback
Pages: 400 pages, 8 pp b-w insert
Publisher: Simon & Schuster Ltd
Publication Date: 03/02/2007
ISBN: 9780743276832
Free Home Delivery
on all orders
Pick up orders
from local bookshops
Reviews
Showing 1 - 3 of 3 reviews.
Review by michellebarton
16/06/2015
This is a very funny and really interesting look at what it was like to be a NASA space shuttle astronaut. Told by a man who admittedly suffers from "arrested development" and who happens to be in the first group to include females (Sally Ride was in this group), Mike Mullane recounts his experience with honesty, humor, and hubris (mixed with a bit of humility, too), giving us a behind the scenes look at this glamorous yet dangerous job.
Review by SChant
16/06/2015
Entertaining, funny, informative - I enjoyed this immensely.
Review by mybucketlistofbooks
16/06/2015
I had mixed feelings about this book. <br/><br/>On one hand it is really well written, flowed really well, didn't get bogged down in the techno babble that dooms so many other books on space and space exploration, and at times was funny and poignant. It gives a very good behind the scenes look at the Shuttle program, its management, and most importantly the personalities of the astronauts themselves. His recounting of the flights he participated in were particularly good, including exceptionally well written sections on the times he spent simply watching the Earth go by beneath him. Best of all it is a very easy read!<br/><br/>On the other hand, Mullane tries too hard to come off as the typically over-sexed, right wing, hot shot rocket jock everyone assumes test pilots are. It seems contrived. The constant stream of digs at N.O.W., Gloria Steinem, Ted Kennedy and "commies" grew kind of tiresome. And I am convinced he doesn't actually know what the term "political correctness" means. He seems to think every time someone pushed back on some sexist and/or inappropriate thing he said or did they were being "politically correct." In actuality they were just pointing out he was being a jerk.<br/><br/>He was also unnecessarily critical of non-astronauts who either flew the shuttle or had some other role astronauts with a military background disapproved of. In what seems like a requirement for test pilots he apparently believed the Shuttle Program was there exclusively so he could fulfill his dream of getting into space. Any accommodation made to non-astronauts that delayed that goal was viewed with disdain. <br/><br/>His criticisms of John Glenn and Christa McAuliffe were notably off base...referring to their role in the shuttle program as immoral. He seems not to have a grasp of the larger purpose for manned space exploration, nor the fact that its funding is dependent on the support of the American people.<br/><br/>In the epilogue he included a moving tribute to the professional astronauts who were killed in the Challenger disaster; omitting part timers Christa McAuliffe and Greg Jarvis from his tribute. An unnecessary and petty omission in my opinion; one that ignores the inspiration McAuliffe has been to younger generations.<br/><br/>These criticisms aside however, I really did enjoy this book. The folks that decide to risk their lives doing this work will always get slack from me.