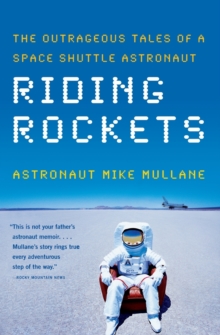 Riding Rockets : The Outrageous Tales of a Space Shuttle Astronaut
Paperback / softback
Description
Selected as a Mission Specialist in 1978 in the first group of shuttle astronauts, Mike Mullane completed three missions and logged 356 hours aboard the Discovery and Atlantis shuttles.
It was a dream come true. As a boy, Mullane could only read about space travel in science fiction, but the launch of Sputnik changed all that.
Space flight became a possible dream and Mike Mullane set out to make it come true.
In this absorbing memoir, Mullane gives the first-ever look into the often hilarious, sometime volatile dynamics of space shuttle astronauts - a class that included Vietnam War veterans, feminists, and propeller-headed scientists.
With unprecedented candour, Mullane describes the chilling fear and unparalleled joy of space flight.
As his career centred around the Challenger disaster, Mullane also recounts the heartache of burying his friends and colleagues. And he pulls no punches as he reveals the ins and outs of NASA, frank in his criticisms of the agency.
A blast from start to finish, Riding Rockets is a straight-from-the-gut account of what it means to be an astronaut, just in time for this latest generation of stargazers.
Information
Format: Paperback / softback
Pages: 400 pages, 8 pp b-w insert
Publisher: Simon & Schuster
Publication Date: 03/02/2007
ISBN: 9780743276832