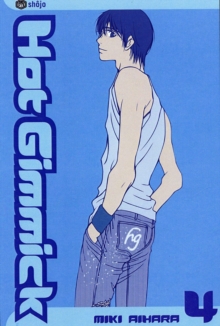 Hot Gimmick, Vol. 4
Paperback / softback
Description
In company-owned rabbit-hutch apartments live tenants who can't afford to live anywhere else, and the apartment complex in which high-school girl Hatsumi Narita lives is ruled over by the rumour mongering, self-righteous Mrs. Tachibana. Get on Tachibana's bad side, and life becomes hell. When Hatsumi has to buy a pregnancy test because her popular sister Akane is late, Mrs. Tachibana's son, Ryoki, who used to bully Hatsumi as a kid, promises not to tell the world about Hatsumi's secret, only if she becomes his slave.
Suddenly Azusa, Hatsumi's protector in their youth, reappears to save her again!
He's moving back into the neighbourhood! Despite the budding romance between Hatsumi and Azusa, Ryoki has control over her through the secret that could ruin the lives of everyone in Hatsumi's family, and he hasn't forgotten who his slave is!
Find out why Hot Gimmickis one of the most talked-about new manga titles coming out of Japan!
The Narita family is given the deep freeze when one of Mrs. Tachibana's spies glimpses our hapless heroine, Hatsumi, with her treacherous ex-"boyfriend," Azusa.
Thinking they're being ostracized because she's turned down her former "master" Ryoki's advances, Hatsumi tracks Ryoki down and begs him to take her back...as his slave!
But this only pisses lovesick Ryoki off, who actually wants Hatsumi to like him.
He has another plan to win Hatsumi's good graces: he wants her brother, Shinogu, to be his private math tutor, and he wants his lessons to take place at the Narita's apartment!
Shinogu doesn't like it...especially since Hatsumi is starting to fall for Ryoki!
Information
Format: Paperback / softback
Pages: 192 pages
Publisher: Viz Media, Subs. of Shogakukan Inc
Publication Date: 05/11/2007
Category: Manga
ISBN: 9781591163893
Also in the Hot Gimmick series | View all