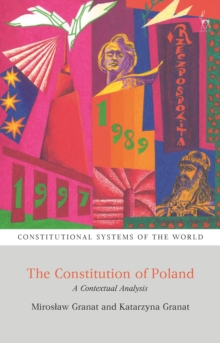 The Constitution of Poland : A Contextual Analysis
Hardback
Description
This book focuses on the Polish Constitution of 1997, concentrating on its structure, its substance and some of the institutional choices made by the drafters.
The core of the Constitution is similar to other liberal democratic constitutions, but, in addition, it regulates a number of issues - such as public finances and sources of law - that are new to Polish constitutionalism and to constitutionalism in general.
It considers in a detailed manner certain institutional choices made in the Constitution, such as the bicameral parliament, the peculiar structure of the executive branch, as well as the principle of independence of courts and judges, fundamental rights and local government.
The book is a vital resource for all those interested in Poland's Constitution, and the rich comparative constitutional insights the country offers. In addition to explaining the 1997 Constitution in its political, historical, and social context, the book tackles the radical changes, in particular within the judicial branch, introduced by the new governing majority since 2015.
These new regulations, constitutional in character, but without formally changing the Constitution, challenged the rule of law, a key component of membership in the European Union.
Despite the negative nature of these recent developments, the anchoring of Polish constitutional law in European constitutionalism presents a source of optimism that the 1997 Constitution will regain its position as the supreme law of the state.
Also in the Constitutional Systems of the World series | View all