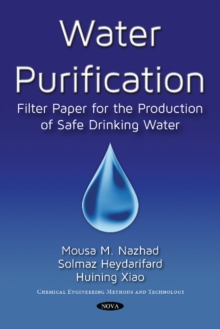 Water Purification : Filter Paper for the Production of Safe Drinking Water
Paperback / softback
Description
A large segment of the population in undeveloped and developing countries drink untreated or partially treated water.
Annually, 6 to 60 billion cases of gastrointestinal illnesses are continuously reported due to safe drinking water, and over 1.6 million people die due to these water-borne diseases.
Owing to increasing concern about global water-related diseases associated with drinking water, finding an affordable and suitable way of water treatment is of great importance.
Filtration is a promising point-of-use water treatment.
Currently, most water filtration membranes are made of synthetic polymers derived from non-renewable resources.
Negative factors like climate change, many different environmental pollutants and the reduction of oil resources give rise to increase the demand of biodegradable products over non-renewable resources.
This book introduces a novel, cost effective and biodegradable filter; a so-called cellulose foam filter.
The cellulose foam filter is a novel porous cellulosic derivative made via a foam-laid process and modified in order to act as a water filter.
Improvements of wet strength performance and the biocidal activity of filters are two main tasks presented in this book.
Wet strength improvement is achieved through a furnish formulation, and the addition of agents and antimicrobial activity are preformed using polymeric antimicrobial agents, guanidine-based polymers and a-poly lysine.
Information
Format: Paperback / softback
Pages: 200 pages
Publisher: Nova Science Publishers Inc
Publication Date: 25/10/2017
Category: Chemical engineering
ISBN: 9781536124378
Free Home Delivery
on all orders
Pick up orders
from local bookshops