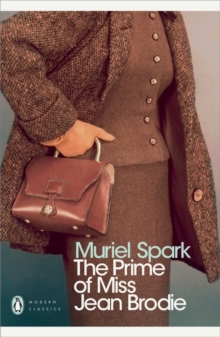 The Prime of Miss Jean Brodie
Paperback
Description
Muriel Spark's The Prime of Miss Jean Brodie includes an introduction by Candia McWilliam in Penguin Modern Classics.Romantic, heroic, comic and tragic, unconventional schoolmistress Jean Brodie has become an iconic figure in post-war fiction.
Her glamour, unconventional ideas and manipulative charm hold dangerous sway over her girls at the Marcia Blaine Academy - 'the creme de la creme' - who become the Brodie 'set', introduced to a privileged world of adult games that they will never forget.
Muriel Spark's The Prime of Miss Jean Brodie was adapted into a successful stage play, and later a film directed by Ronald Neame and starring Maggie Smith.Muriel Spark (1918 - 2006) wrote poetry, stories, and biographies as well as a remarkable series of novels, including The Prime of Miss Jean Brodie (1961), The Mandelbaum Gate (1965) which received the James Tait Black Prize, and The Public Image (1968) and Loitering with Intent (1981), both of which were shortlisted for the Booker Prize.
Spark was awarded the T.S. Eliot Award for poetry in 1992, and the David Cohen Prize for literature in 1997.
If you enjoyed The Prime of Miss Jean Brodie, you might like Evelyn Waugh's Brideshead Revisited, also available in Penguin Modern Classics.'A sublimely funny book ... it is a book to be read by all ... unforgettable and universal'Candia McWilliam, author of Debatable Land
Information
Format: Paperback
Pages: 144 pages
Publisher: Penguin Books Ltd
Publication Date: 22/02/2000
ISBN: 9780141181424
Other Formats
eAudiobook MP3 from £8.24
Hardback from £7.39
Paperback from £6.09
EPUB from £4.80
Free Home Delivery
on all orders
Pick up orders
from local bookshops
Reviews
Showing 1 - 5 of 10 reviews.
Previous | Next
Review by birdy47
16/06/2015
Still not sure what I made of this. Mostly a bit disappointed as so many people seem to love the book and her style of writing, but I wasn't that keen. I found some parts amusing, mostly how she referred to people "Rosie, who was well known for sex" consistently throughout the book, but I found the characters shallow and really didn't warm to Jean Brodie at all.
Review by dazzyj
16/06/2015
Intricately put together, but alienatingly mannered and lacking in narrative drive. One of the many books that make me wonder whether people who describe it as "humorous" are doing so in order to appear clever, rather than because while reading it they actually, well, laughed.
Review by livrecache
16/06/2015
I just finished this 1001 book, and I felt quite disappointed. I thought the writing was at times repetitive, and the characterisation poorly executed, overall. For me, Jean Brodie's character was simply foolish and pathetic, but I think my memory of the film where Maggie Smith plays that part has influenced my judgment, as she was quite compelling in the role. The narrative was written in an interesting manner, as TQD says, signalling the outcome for the various characters. This device can be at times extremely irritating, but in this instance it works, as a linear narrative would have made the tale quite dull.Having dissed the book, I must say that I was drawn in to it, despite my expectations not being met.
Review by Caitak
16/06/2015
I like the way that the story gradually unfolds, you're aware of some of the events right from the beginning but it all comes together slowly to create one big picture.I think this would be my next choice for a Book Tree Book; I love the writing style, and there are some fantastic lines in it.I like the way it shows the girls growing up and the ways in which they change - by the end of the book you can really see Miss Brodie's influence on them. I wonder how things would have been different if they hadn't been part of her 'set'.
Review by clfisha
16/06/2015
Told in a mix of timelines and a whirlwind of delicious characters this is a funny, intelligent and exuberant story of the "Brodie Set". Miss Brodie is an unorthodox teacher at a girls school in the 1930s and she (as she likes to remind people) is in her Prime. Her favourite pupils are groomed to be the crème de la crème: the Brodie set. <i> 'This is Stanley Baldwin who got in as Prime Minister and got out again ere long,' said Miss Brodie. 'Miss Mackay retains him on the wall because she believes in the slogan "Safety First". But Safety does not come first. Goodness, Trust and Beauty come first. Follow me.' </i> It's a damn hard book to review, short and chaotic it's full of pitch perfect, intelligent and humorous writing. I cannot really find anything to pick out. From the intriguing and enticing way Spark introduces the Brodie set by narrowing them to a simple skill (Rose is famous for her sex appeal, Monica for her maths and her anger) to extra tension of the ominous betrayal and the bitter-sweet edge of future reality. It is a book of many layers and complexity but it is never confusing or tiresome and oddly, although very much of it's time it doesn't feel dated. <i> "We shall discuss tomorrow night the persons who oppose me' said Miss Brodie. 'But rest assured they shall not succeed.''No,' said everyone. 'No, Of course they won't.''Not while I am in my prime. It is important to recognize the years of one's prime, always remember that,..' </i> Highly recommended. It's my second attempt at Muriel Spark, I didn't quite gel with the character in [Drivers Seat] but I loved this.
Also in the Penguin Modern Classics series | View all