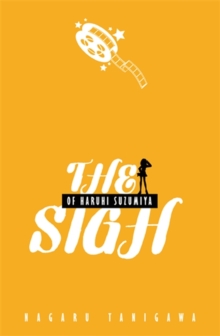 The Sigh of Haruhi Suzumiya (light novel)
Paperback
Description
In this novel, the story follows the SOS Brigade's first movie making project, starring Mikuru Asahina as the main protagonist.
Additionally, Nagato is made the antagonist in the movie and Koizumi is the conflict hero, who is supposed to end happily ever after with Mikuru, but faces competing interests from Nagato.
Haruhi comes up with the idea that the SOS Brigade needs to do something for the upcoming cultural festival.
Her class is doing a questionnaire, which is boring in her mind.
She decides to make a movie, starring Mikuru. However, Haruhi begins to confuse the movie world with the real world, and the real world begins to become more like her movie.
The pigeons in front of the shrine turn white, then into Passenger Pigeons, cherry trees blossom in autumn, Mikuru begins to shoot lasers out of her eyes, and the cat Shamisen begins to talk.
By the efforts of Itsuki and Yuki, Kyon eventually convinces Haruhi to add a disclaimer at the end that the movie is a work of fiction.
Overnight, the movie apparently edits itself, and is shown.
With the disclaimer, Haruhi herself realizes it is a work of fiction, and the world reverts back to normal.
Information
Format: Paperback
Pages: 208 pages
Publisher: Little, Brown & Company
Publication Date: 01/10/2009
Category: Manga
ISBN: 9780316038799
Free Home Delivery
on all orders
Pick up orders
from local bookshops
Reviews
Showing 1 - 4 of 4 reviews.
Review by keristars
16/06/2015
In the afterword to <i>Sigh</i>, Tanigawa says that he didn't expect to write a series based on his first novel, <i>The Melancholy of Haruhi Suzumiya</i>. And yet, <i>Melancholy</i> was extremely popular, and the short story he'd been asked to write as a preview was also popular, and so along came <i>Sigh</i>. That Tanigawa didn't plan to make a continuation of the first novel shows a bit, though that might be because it's been a while since I read it.<i>Sigh</i> doesn't have quite the charm that <i>Melancholy</i> does, and none of the characters are as likable as before. The plot is a bit rough, especially in the middle. But it was still an enjoyable enough book.This second book takes place around October, six months after the events of the first book and a month or two after the events in the short stories in the third book. In <i>Sigh</i>, Haruhi has decided that she wants to make a movie as the SOS-Brigade's contribution to the school festival. So, naturally, that's what happens, because the other four members tend to go out of their way to do whatever Haruhi wants. Haruhi here has turned into someone who doesn't seem to have any consideration for others. She treats Asahina, Nagato, Koizumi, and narrator Kyon as though they're living dolls for her to control - especially poor Asahina. At least she seems to have some respect for Kyon and lets him argue with her (which occasionally will change her mind). It's a bit bewildering why Kyon continues to do as she orders, but then he claims that he's protecting Asahina from Haruhi (he does a poor job of it).Asahina in this book is a cry-baby who won't stand up for herself; Nagato is more silent and statue-like than ever (though her traipsing around in witch's hat and black cape displays some element of humor, perhaps); and Koizumi just tries to do the least amount of work possible (which means foisting everything on Kyon). Kyon is whiny the whole time, about how Haruhi is bullying Asahina, how Haruhi won't let him rest, how Koizumi and Nagato aren't helpful at all, yet somehow I got the impression that he was actually having fun, except for his complaining.There were some rather interesting things that were revealed in the book: the three factions that Asahina, Nagato, and Koizumi represent each dissed the others to Kyon, and Koizumi said a few things that made himself sound less than trustworthy - it will be interesting to see how his role in the story develops and whether he becomes less of an exposition fountain (which Kyon even comments on in this book). Also, ignoring Kyon's whining, Haruhi's actions are interesting to watch, as you see her try to figure out what to do with friends (she's never had friends before), and as she slowly starts to realize that she needs to be considerate of them (though even at the end of the book, she doesn't seem to have fully understood the idea).So <i>Sigh</i> wasn't really as good as <i>Melancholy</i>, but it was enjoyable enough to read, despite the frustrating characters, especially considering its short length. At about 200 pages with illustrations and a largish typeface, it's more or less novella length and reads quickly.
Review by TPauSilver
16/06/2015
I hate this book, and I picked a quick paragraph to roughly illustrate why - "Asahina sat up slowly. She looked like she had a fever, and her eyes couldn't seem to focus. She's behaving awfully sexy..." Know what isn't sexy? A young girl being forced to do things against her will who's crying and weak. A girl who's too drunk to stand up on her own because her drink was spiked. A girl who's so embarased and upset she's just given up. These things ARE NOT sexy but Kyon continualy comments about how sexy Mikuru is doing all these things. He makes occasional comments about maybe saving her some time but at the same time seems glad to see her suffer as he can go home and wank about it later. That's not a male protagonist I can have any respect for. Don't get me wrong, the anime is pretty close to the books and I enjoyed the anime, the plot isn't the problem, the problem is Kyon is a perverted assshole and I really don't need his running commentary on, well, anything. I got so angry every time he commented how attractive he found Mikuru's weakness, probably because it's a prevailing theme in the world in general and particularly in anime that girls are most attractive at their weakest and strength (like Haruhi's determination) is unattractive (and, of course, all girls want straight men to salivate over them when they get their jollies at night). The plot is actualy kind of good, if you can find it in Koizumi's long-winded speeches about this and that. I mean, maybe it's just bad translation, do the Japanese have a clue about what that's guy's going on about half of the time? I'm pretty sure I commented on the Mikuru thing with the first book but it's been a while since I read it and, well, it was a con and I impulse buy so I ended up with this (and the third, help me!). This one was far more offensive then the first though. In the first, say, 1/2 to 2/3 all that happens to Mikuru gets bullied and Kyon comments on how attractive he finds it. Plot kicks in somewhere after the half way point but takes a while to build up to anything and it, then, dominated by Itsuki's babble.
Review by timothyl33
16/06/2015
As fun as Melancholy of Haruhi Suzumiya was, The Sigh of Harushi Suzumiya seems to fall short of the feeling of fun and excitement that was prevalent in the first book. In some ways that's not surprising since (from my understanding), Tanigawa never originally anticipated in creating a sequel, and this book in some ways feels a bit light in content and plump in filler. After all, how can one top a (potentially) world ending cataclysmic event that occurred in Melancholy?Compared to that, the 'crisis' that is prevalent throughout this book seems somewhat anti-climactic and in some ways petty. For the most part, this book is basically about the ego of Haruhi. Although it was present in the previous book, it was only visible in palatable doses, while here, we're treated to the whole enchilada. In addition, about five percent of the book is of Koizumi's (for better lack of word) technobabble, as he talks one theory of 'reality vs fiction' after another.Frustratingly, most of this would have been bearable if not for the odd translation decisions made by the translator throughout this book. For a book that's set in Japan, most of the cultural references were replaced with an American equivalent. While that is certainly understandable to give the non-Japanese speaking reader a certain context to understand, it leaves me somewhat puzzled as to why then, certain terms themselves are left untranslated? Unless, one is familiar with Japanese or has a dictionary handy, I doubt anybody would know what 'hikkikomori' or 'tokusatsu' means. Personally, I'd have been find if the translator left the name of a Japanese band in the script, if it meant translating the rest into English. At least with the bands, I would still understand the context.Overall, it's a decent book, but mainly for fans of the series who would be reading this just to barrel through to the next book in the series.
Review by xuebi
16/06/2015
The Sigh of Haruhi Suzumiya is the second volume in the series following the lives of the members of the SOS Brigade and their extraordinary adventures.

In this volume, Haruhi vows to make a student film for the school's cultural festival, with all the parts filled by SOS Brigade members and friends. However, to everyone except Haruhi's annoyance and dismay, when filming begins, her powers and unconsciously manifested which could lead to the rewriting of reality itself.

Tanigawa provides both light-hearted fun following these high school students around but he also provides a surprising depth to his work - a extract where the brigade members sans Haruhi come across a talking cat and debate the meaning of language is just one example of the philosophical trend in the series.

An excellent continuation to the already-best selling first volume, the adventures of Haruhi Suzumiya are set to continue!