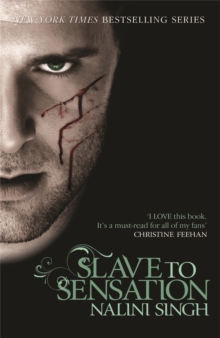 Slave to Sensation : Book 1
Paperback
Description
In a world that denies emotions, where the ruling Psy punish any sign of desire, Sascha Duncan must conceal the feelings that brand her as flawed.
To reveal them would be to sentence herself to the horror of 'rehabilitation' - the complete psychic erasure of her personality ...Both human and animal, Lucas Hunter is a Changeling hungry for the very sensations the Psy disdain.
After centuries of uneasy co-existence, these two races are now on the verge of war over the brutal murder of several Changeling women.
Lucas is determined to find the Psy killer who butchered his packmate, and Sascha is his ticket into their closely guarded society.
But he soon discovers that this ice-cold Psy is very capable of passion - and that the animal in him is fascinated by her.Caught between their conflicting worlds, Lucas and Sascha must remain bound to their identities - or sacrifice everything for a taste of darkest temptation ...
Information
Format: Paperback
Pages: 368 pages
Publisher: Orion Publishing Co
Publication Date: 01/02/2010
ISBN: 9780575095663
Free Home Delivery
on all orders
Pick up orders
from local bookshops
Reviews
Showing 1 - 3 of 3 reviews.
Review by salimbol
16/06/2015
It's New Zealand book month, and I thought I'd try a fantasy by a New Zealand author that's been lurking around our bookshelves for some time. But - ugh. This is everything that I find annoying in paranormal romance, chock full of all the cliches of the genre: an irritating, repetitive focus on the leads' physical assets,sex/romance at the expense of characterisation (whereas the best romance writing should have the two in tandem), woobification of the male lead, unreconstructed and uncomfortable gender relations ("oh, they're animals, so it's *alright* for them to behave like that" - I loathe the alpha male trope with a fiery passion!) and racial (species?) relations… I could go on.Still - it's a reasonably interesting universe in and of itself, and I quite like stories about psychic characters who haven't yet found their niche, so that aspect was enjoyable enough. (Sorry, book, I can't like you any more than that.)
Review by emleemay
16/06/2015
This book receives so many rave reviews that I guess I was just expecting a bit of something more. In fact, I was fully convinced before I started that I would probably give this book a 4 star rating, it just shows that I should stop making predictions - I'm usually wrong. I will say that I liked it enough to take a curious look into the rest of the series, it's not as if they're particularly difficult to read so I don't mind as much suffering through them. <br/><br/>The thing about this novel was that I found the first half to be at complete odds with the second half. I thought the story focus shifted, the strong heroine became weak and whiny, and the male love interest who I had previously thought was sexy to death became a misogynistic control freak. Yeah, he did somewhat recover what I'd liked about him towards the end... but I felt that he could never be the character I originally thought he was after he pushed Sascha (the aforementioned heroine) around for trying to decide something for herself. What is with romance novels today? Particularly paranormal romance novels, it seems as if they all contain a relationship where the man completely controls the woman and her lifestyle. Please say it's not just me who thinks these kind of relationships are stomach-turning?<br/><br/>I get the alpha-male attraction. I get the bad boy attraction. But that's all a sex issue... a guy playing mr dominant in the bedroom is one thing, but it's something else entirely when he thinks he can say who the woman is allowed to speak to, where she goes, what she wears. It makes me cringe. The point is that Lucas (mr hero guy) started off as sexy-in-a-suit, he identified Sascha as a powerful woman from a powerful and dangerous race that should not be taken lightly. They start off as equals and their flirtations and attraction to each other is hot to the point where I was on edge all the time and wondering where we would go next. But...<br/><br/>The exact minute that Lucas discovers that the attraction is mutual, he has sex with her and, from then on, attempts to completely take over her life. That's what I hated. They went to bed together (admittedly - very hot!) and the next morning he woke up an entirely different character. And not only him, but her too. She is from the Psy, a race of creatures that are just as powerful, if not more so, than the Changelings but as soon as he takes her virginity she turns into a dithering mass of patheticness. Aside from being annoying, it also didn't flow or make any sense at all.<br/><br/>The story that formed the bigger picture was fairly good. You can sort of imagine a future where a superior race has been developed, each member completely immune to the ultimate weakness: emotion. They are programmed to be this way and let only facts and logic rule their minds... then, of course, amongst the ranks of this new race is one with the unforgivable defect - Sascha, who is starting to feel. This is a good idea and I was loving it until everything turned upside down halfway through. It's bad enough to be let down by any book that you were expecting to be good, but it's even worse to be let down in the middle of said book when the first half had been so promising. Ah well, I'll still see what the other books in this series bring and I hope they don't all fall into the same pattern.
Review by Cynical_Ames
16/06/2015
I'm a fan of the author's UF Guild Hunter books and wanted to see what her futuristic PNR series was like so I read this. It was brilliant. I loved it, I loved it, I loved it! The only thing I could criticise was the ending. I thought there would be a big fight scene with casualties on both sides but this wasn't enough to stop me from giving it 5 stars, the detailed world and variety of characters were too good to give it anything less! Please don't be put off by the US covers, it's not as cheesy as it looks.
Also in the The Psy-Changeling Series series | View all