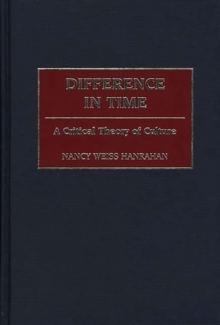 Difference in Time : A Critical Theory of Culture
Hardback
Description
Arguing against the postmodern claim that systematic theory is unable to account for difference, Difference in Time: A Critical Theory of Culture adopts an interdisciplinary approach to the analysis of cultural judgement and social change.
With music as her model for theory, Hanrahan explores the role of time, the creation of meaning, the identification of difference, and the basis for judgements in cultural life, and in doing so provides a foundation for the critique of cultural objects and practices that avoids both the elitism of traditional aesthetics and the unwavering relativism of so much contemporary cultural analysis.
A broad-ranging and deeply philosophical work building on the scholarship of the Frankfurt School, Difference in Time: A Critical Theory of Culture drives home the need for critique in the evaluation and revision of the social knowledge and institutions of democratic civic life. In Hanrahan's analysis, the dualism of critique-that of universal judgement and relative standpoint-is false when critique is understood as a dynamic process in which both judgement and standpoint are emergent and contingent.
Differences are not given or static but are articulated in time; therefore, both the categories of critique and of social theory in general must be temporalized.
Hanrahan's musical model draws attention to the fundamental temporality of social life and social structure, and integrates that understanding into the structure of a new dynamic in which difference is compatible with both system and structure.
Thus, Hanrahan demonstrates that it is possible to construct critical categories that do not become orthodoxies.
Information
Format: Hardback
Pages: 152 pages
Publisher: ABC-CLIO
Publication Date: 30/06/2000
Category: Cultural studies
ISBN: 9780275969752
Free Home Delivery
on all orders
Pick up orders
from local bookshops