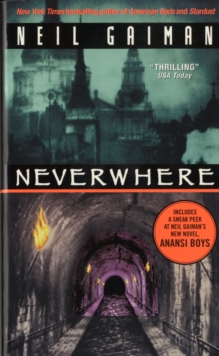 Description
Richard Mayhew is a plain man with a good heart -- and an ordinary life that is changed forever on a day he stops to help a girl he finds bleeding on a London sidewalk.
From that moment forward he is propelled into a world he never dreamed existed -- a dark subculture flourish in abandoned subway stations and sewer tunnels below the city -- a world far stranger and more dangerous than the only one he has ever known...Richard Mayhew is a young businessman with a good heart and a dull job.
When he stops one day to help a girl he finds bleeding on a London sidewalk, his life is forever altered, for he finds himself propelled into an alternate reality that exists in a subterranean labyrinth of sewer canals and abandoned subway stations below the city.
He has fallen through the cracks of reality and has landed somewhere different, somewhere that is Neverwhere.
Information
Format: Paperback
Pages: 400 pages
Publisher: HarperCollins Publishers Inc
Publication Date: 01/01/1997
ISBN: 9780380789016
Other Formats
Paperback from £7.85
Hardback from £11.79
CD-Audio from £16.25
EPUB from £4.99
Free Home Delivery
on all orders
Pick up orders
from local bookshops
Reviews
Showing 1 - 5 of 58 reviews.
Previous | Next
Review by Crowyhead
16/06/2015
I really thought this was marvelous -- it's got a great blend of humor and suspense, and the characters are truly memorable.
Review by heidilove
16/06/2015
this is dark fantasy at its best. originally a mini-seiers for the BBC, Gaiman shows that while he is visual extrodinaire, his true talent lies in using the word to transport us.
Review by ben_a
16/06/2015
Anyone who names a character "The Marquis of Carabas" is ok by me.
Review by leld
16/06/2015
This is a wonderfully fun and imaginative story. The fantastical elements are easily blended with thoughts on society, culture, reality, and our place(s) in life.
Review by jennyo
16/06/2015
I really, really like Neil Gaiman. Neverwhere was terrific escapism. The story is all about a guy who's, quite literally, out of his depth, but who discovers that he can be brave, bright, and strong when it's required. He's an appealing character.I don't normally go for fantasy/alternate world type stuff, but Gaiman's so talented, I'd read anything he wrote. His books are witty and well-plotted, and he writes great characters.The really cool thing was that I went to one of my book club meetings tonight and took this book with me. The person who was choosing the book for next time said, "You know, I'd really like to read this Neil Gaiman book. It's called Neverwhere." I started laughing and pulled my copy out of my bag and said, "You mean this one? Yeah, pick it. It's great!"