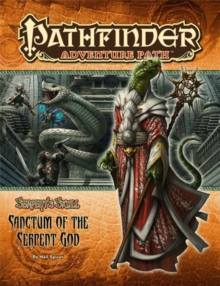 Pathfinder Adventure Path: The Serpent's Skull Part 6 - Sanctum of the Serpent God
Paperback
Description
A Pathfinder Roleplaying Game adventure for 15th-level characters,this volume presents the epic climax to The Serpent's Skull AdventurePath, in which the heroes lead an army of savages against a threat from theunderworld, face a power mad cult of snakemen, and do battle against thehalf-resurrected corpse of the snake god Ydersius himself.
This volume containsdetails on the decapitated snake god Ydersius, his cult of sinister serpentfolkservants, and his undying threat to the surface world.
Additional details on thejungles of the Mwangi Expanse, tribes therein, and other threats from the depthsalso outline numerous ways GMs might continue their campaign past the conclusionof The Serpent's Skull Adventure Path.
Plus, five new monsters in thePathfinder Bestiary, new fiction in the Pathfinder's Journal, and muchmore!
Information
Format: Paperback
Pages: 96 pages
Publisher: Paizo Publishing, LLC
Publication Date: 19/01/2010
Category: Indoor games
ISBN: 9781601253071
Free Home Delivery
on all orders
Pick up orders
from local bookshops