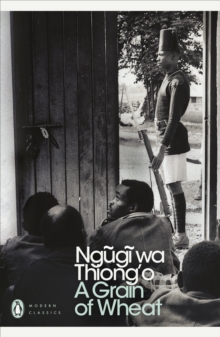 A Grain of Wheat
Paperback
Description
A masterly story of myth, rebellion, love, friendship and betrayal from one of Africa's great writers, Ngugi wa Thiong'o's A Grain of Wheat includes an introduction by Abdulrazak Gurnah, author of By the Sea, in Penguin Modern Classics. It is 1963 and Kenya is on the verge of Uhuru - Independence Day.
The mighty british government has been toppled, and in the lull between the fighting and the new world, colonized and colonizer alike reflect on what they have gained and lost.
In the village of Thabai, the men and women who live there have been transformed irrevocably by the uprising.
Kihika, legendary rebel leader, was fatally betrayed to the whiteman.
Gikonyo's marriage to the beautiful Mumbi was destroyed when he was imprisoned, while her life has been shattered in other ways. And Mugo, brave survivor of the camps and now a village hero, harbours a terrible secret.
As events unfold, compromises are forced, friendships are betrayed and loves are tested. Kenyan novelist and playwright Ngugi wa Thiong'o is the author of Weep Not Child (1964), The River Between (1965), and Petals of Blood (1977). Ngugi was chair of the Department of Literature at the University of Nairobi from 1972 to 1977.
He left Kenya in 1982 and taught at various universities in the United States before he became professor of comparative literature and performance studies at New York University in 1992. If you enjoyed A Grain of Wheat, you might like Chinua Achebe's Things Fall Apart, also available in Penguin Modern Classics. 'With Ngugi history is a living tissue ...this book adds cubits to his already considerable stature' Guardian
Information
Format: Paperback
Pages: 272 pages
Publisher: Penguin Books Ltd
Publication Date: 07/02/2002
ISBN: 9780141186993
Free Home Delivery
on all orders
Pick up orders
from local bookshops
Reviews
Showing 1 - 2 of 2 reviews.
Review by kidzdoc
16/06/2015
This stunning and searing novel, which was written by Mr Thiong'o in 1967, is set in a village in Kenya just prior to the country's independence from Britain in 1963. However, much of the story takes place during the Emergency (referred to by the British as the Mau Mau Uprising) that took place from 1952-1960, which led to the deaths of a few dozen settlers and tens of thousands of Kenyans, and caused the destruction of numerous villages and the breakdown of Kenyan social and economic society. The main characters in this story were all caught up in the retribution that took place after a freedom fighter from the village kills a particularly violent District Officer, and each of them betrays someone dear to them or to the movement, with devastating results. I was unaware of how horrible the Emergency was, but Mr Thiong'o gives us an unforgettable view of colonial Kenya.
Review by roblong
16/06/2015
Novel set at the moment of Kenyan independence from the British, where the victorious Kenyans are not united but divided by their experience of colonial rule and the fight to be free. Tries to provide a panoramic view through the eyes of several characters, but Thiong'o clearly cares about some more than others, so it's all a bit uneven. The good bits are good though, and one of the characters (Mugo) is put in a desperate situation it would have been intriguing to read more about (if the whole book had been about him, I'd have been happy). The book lacked a bit of humour and vibrancy, but he has a good eye for the complexities present even at the liberation movement's moment of triumph. A book I liked more sitting and thinking about it afterward rather than in the process of reading.
Also in the Penguin Modern Classics series | View all