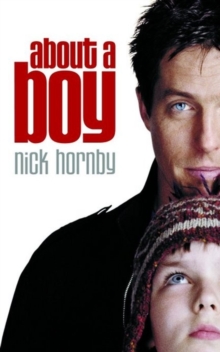 Description
About a Boy is Nick Hornby's comic and heart-warming million-copy bestseller 'How cool was Will Freeman?'Too cool!
At thirty-six, he's as hip as a teenager. He's single, child-free, goes to the right clubs and knows which trainers to wear.
He's also found a great way to score with women: attend single parents' groups full of available (and grateful) mothers, all hoping to meet a Nice Guy.Which is how Will meets Marcus, the oldest twelve-year-old on the planet.
Marcus is a bit strange: he listens to Joni Mitchell and Mozart, looks after his mum and has never owned a pair of trainers.
But Marcus latches on to Will - and won't let go. Can Will teach Marcus how to grow up cool? And can Marcus help Will just to grow up?This astonishing novel, now a modern classic, was adapted for the acclaimed 2002 film About A Boy, starring Hugh Grant and Nicholas Hoult.
Fans of One Day by David Nicholls and Any Human Heart by William Boyd will devour this book, as will lovers of fiction everywhere.'A stunner of a novel.
Utterly read-in-one-day, forget-where-you-are-on-the-tube-gripping' Marie Claire'About the awful, hilarious, embarrassing places where children and adults meet, and Hornby has captured it with delightful precision' Irish Times'It takes a writer with real talent to make this work, and Hornby has it - in buckets' Literary Review
Information
Format: Paperback
Pages: 288 pages
Publisher: Penguin Books Ltd
Publication Date: 01/04/2002
ISBN: 9780141007335
Other Formats
Paperback from £6.65
EPUB from £3.99
Hardback from £10.00
eAudiobook MP3 from £8.00
Free Home Delivery
on all orders
Pick up orders
from local bookshops
Reviews
Showing 1 - 5 of 8 reviews.
Previous | Next
Review by coolcat
16/06/2015
The best male-lit I've ever read! Will is the most likeable bum ever written about.
Review by krisiti
16/06/2015
Didn't expect to like this at all - book club read. Put off reading it til the last moment, but then devoured it in a day. Very light, easy to read, with hidden sharp-toothed biting depths. From the back and the movie blurbs, I was expecting it to be all about Will picking up single mothers, but that was only present at the beginning. And even that wasn't so bad. I rather liked Will; there are worse things to aspire to than what he called being a "serial nice guy". He was shallow and a liar, of course. I didn't mind his being unemployed. The other girls seemed to mind that more than his superficialness, which now strikes me as shallow itself.Hmm I remember saying that NH was good at getting you into the heads of his characters, but that unfortunately there wasn't much there. I'm not sure now that was fair. At the bookclub meeting, the topic of whether a male and a female could be friends - or even, would want to be friends - without some sort of attraction or sexual issue getting in the way came up, because of Will's perplexed reaction to Fiona. I stayed out of the argument, because I couldn't help thinking of Steve, and Jeff, and maybe even Daniel. I wanted to say they could, but my personal experience doesn't seem to support that.
Review by bribre01
16/06/2015
I saw this movie first, and the book is ten times better. I love Nick Hornby's dry, witty humor. Nick Hornby does a fantastic job of describing and painting a person or scene without overwhelming you with useless details.
Review by Griff
16/06/2015
Nick Hornby continues to be a joy to read. My recent long trip, marked by significant layovers in Washington, London, and Bahrain, was made enjoyable by this book. I'll now need to watch the movie again to compare and contrast - it has been years since I've seen it. Upon my return to the U.S. I think I'll pick up High Fidelity as well. It is nice to be able to turn to a book for intelligent laughs. Hard to go wrong in selecting a Hornby book.
Review by madhuri_agrawal
16/06/2015
A nice read. It is a story of a strange relationship between a man and a child, brought together by curious circumstances. Neither of these quite belong to their age, and somehow strangely the relationship makes them belong. It is a sort of a book of growing up - for Will (the man) more than Marcus (the boy)