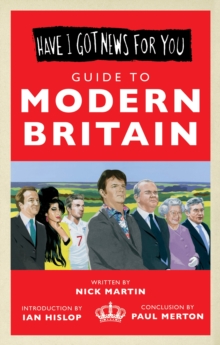 Have I Got News For You: Guide to Modern Britain
Hardback
Description
Did you know that foreigners who want to live in Britain have to pass a government test to get in?
It's true, and some of the questions are harder than "Why does everyone hate Manchester United?"So the Have I Got News For You team have, in a moving and totally out of character display of public-spiritedness, compiled this Guide to Modern Britain to help guide you around, er, modern Britain.
With reassuringly jaundiced reflections on everything from the global recession, religion and the Royal Family to the NHS, education and the media, it's a handy primer to the British Constitution, even though we don't actually have one. (How clever is that?) Think of it as the sort of manual you get with a car - enough information to help you check the oil, though not enough to re-balance the steering. Packed with useless facts and unhelpful cynicism, the Have I Got News for You Guide to Modern Britain will help you understand exactly how the most ingenious, resilient, resourceful and proudest people on earth became the Twittering, touchy-feely, fame-obsessed, flu-fearing wimps that they are today.
Information
Format: Hardback
Pages: 192 pages
Publisher: Ebury Publishing
Publication Date: 15/09/2009
Category: Cultural studies
ISBN: 9781846075469
Free Home Delivery
on all orders
Pick up orders
from local bookshops
Reviews
Showing 1 - 2 of 2 reviews.
Review by BenDV
16/06/2015
I was introduced to HIGNFY when I was last in England, in November 2009. I instantly thought it seemed like a really great show, so when I saw this book in a shop the next day I instantly wanted it. I'm not sure who Nick Martin is, but judging by the humour in the book, he could be the person writing what the hosts read off the autocue every week. The book was very funny, and an appropriate read for my holiday. As the blurb suggests, the book is an explanation of why Britain has fallen to pieces, and the conclusion in particular makes Britain appear to be in a truly pathetic state. It's very good at this because it actually is what it promises to be; a guide to modern Britain. That isn't just a name to draw you in, this is actually a guide; it goes through the history of Britain, the political system, social issues, all that sort of stuff. That makes the book a genuinely good read rather than one of those books you just occasionally flick through. The only disappointing aspect is that, despite appearing on the front cover, the contributions of Ian Hislop and Paul Merton, while quite amusing, are ridiculously small. In fact Paul's is a mere six lines- Ian at least gives us a very amusing page and a half that has some relevance to the book (though it wouldn't be right for Paul to actually contribute something topical would it?). Besides that, there's no complaints from me. It's a good length and has great content, with the laughs not dropping off at any point. All Brits should definitely go out and get this.
Review by thorold
16/06/2015
I generally enjoy <i>Have I Got News For You</i> if I happen to watch it, but there's no way you can pretend that the sort of "topical satire" they deal in (topical in the medical sense, i.e. applied superficially to a small area of skin) has any of the force of Swift or Pope. This isn't satire that changes the world; it's just designed to give us something to giggle about. Only two years after publication, most of the jokes are well past their use-by dates. Amusing enough to keep on the guest-room bookshelf, but only just.