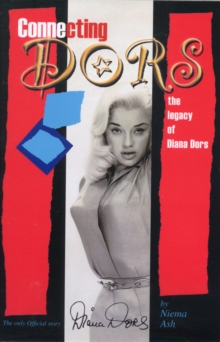 Connecting Dors : The Legacy of Diana Dors Written with the Collaboration of Jason Dors-Lake
Paperback / softback
Description
Diana Dors is a legend. Not only has she become embedded in the U.K. psyche but is very much alive in the U.K. imagination. Her fame has survived from the adored celebrity of the 50's to the cult figure of today's younger generation. Not surprising as she is arguably the biggest star the U.K. has produced. Not only has she appeared in 75 films, written four books, released an L.P. and had her own newspaper columns and television shows but her generosity, incredible bravery, lack of airs and graces, her warmth and compassion and her wit and intelligence have endeared her to millions.From the age of eight Diana Dors had a huge passionate dream. She was determined to become a wealthy, famous, film star. It was a dream that challenged the seemingly impossible being an ordinary looking child, coming from an ordinary family, living in an ordinary town. Yet, against the odds she made her dream come true. The story of how this happened is a fascinating one. "Connecting Dors" not only tells that story but explores the consequences of that celebrity/stardom not only on herself but on her son, Jason. It discusses the impact of "celebrity" on human dynamics, on family dynamics, especially on motherhood.
It examines the pitfalls and rewards of being the child of a famous celebrity.
Jason's story is not only a continuation of the Diana Dors story but an integral part of that story that relies not only on Jason himself but on the people who were close to the Dors family, some of whom, celebrities in their own right I have been privileged to meet. "Connecting Dors" is both informative and entertaining. It recounts incidents and anecdotes from Diana Dors' life - wild tales involving her friends - Hollywood stars, villains, rogues and rascals. It recounts tales which are poignant, hilarious, shocking and disturbing both from Diana's life and from Jason's star-studded life and beyond. It contains both humour and pathos. It explores the legacy of Diana Dors both national, social and personal. It is an important story which has never been told.
Information
Format: Paperback / softback
Pages: 350 pages, illustrations
Publisher: Purple INC Press
Publication Date: 15/10/2011
Category: Individual actors & performers
ISBN: 9780955030123