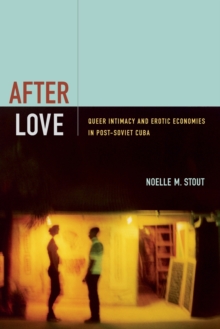 After Love : Queer Intimacy and Erotic Economies in Post-Soviet Cuba
Paperback / softback
Description
Focused on the intimate effects of large-scale economic transformations, After Love illuminates the ways that everyday efforts to imagine, resist, and enact market reforms shape sexual desires and subjectivities.
Anthropologist Noelle M. Stout arrived in Havana in 2002 to study the widely publicized emergence of gay tolerance in Cuba but discovered that the sex trade was dominating everyday discussions among gays, lesbians, and travestis.
Largely eradicated after the Revolution, sex work, including same-sex prostitution, exploded in Havana when the island was opened to foreign tourism in the early 1990s.
The booming sex trade led to unprecedented encounters between Cuban gays and lesbians, and straight male sex workers and foreign tourists.
As many gay Cuban men in their thirties and forties abandoned relationships with other gay men in favor of intimacies with straight male sex workers, these bonds complicated ideas about "true love" for queer Cubans at large.
From openly homophobic hustlers having sex with urban gays for room and board, to lesbians disparaging sex workers but initiating relationships with foreign men for money, to gay tourists espousing communist rhetoric while handing out Calvin Klein bikini briefs, the shifting economic terrain raised fundamental questions about the boundaries between labor and love in late-socialist Cuba.
Information
Format:Paperback / softback
Pages:248 pages, 11 photographs
Publisher:Duke University Press
Publication Date:25/04/2014
Category:
ISBN:9780822356851