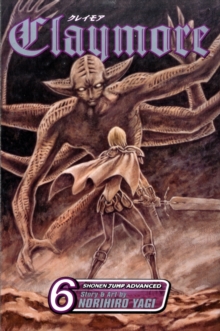 Claymore, Vol. 6
Paperback
Part of the Claymore series
Description
Clare and her fellow Claymores are nearing the end of their strength in their battle against the Awakened Being - a male ex-Claymore who can no longer control his Yoma powers.
Not only is Clare the weakest among them, but she has taken the worst of the creature's attacks as well, and yet she may be their only hope in discovering the Awakened Being's weakness.
Information
Format: Paperback
Pages: 200 pages
Publisher: Viz Media, Subs. of Shogakukan Inc
Publication Date: 06/02/2007
Category: Manga
ISBN: 9781421510484
Free Home Delivery
on all orders
Pick up orders
from local bookshops
Reviews
Showing 1 - 2 of 2 reviews.
Review by Kassilem
16/06/2015
I was unsure about starting this series at first. The first volume was interesting enough but it wasn't phenomenal. But I've come to realize with these manga series that it sometimes takes a few volumes to really engross you in the story. So it was with this series and I'm glad I read past the second volume because it took a huge turn for the better. The deep plotline emerged fairly quickly but in pieces so as to keep you wondering and coming back for more, and the artwork seemed to get better. After volume two or three I was either used to the style or it really did get better. And by volume 10 I'm loving it. The story has gone deeper. It's not just a story about action but of comradeship and betrayal and persistence and tragedy. Yagi had me at the sword fighting and demons but now I'm hooked into the story and I don't think it's going to let me go until it's finished. I'm certainly not complaining; I'm enjoying the series immensely. Recommended for fantasy and/or graphic novel fans.
Review by krau0098
16/06/2015
This is the sixth volume in the Claymore series. This volume had some wonderful plot development along with some truly awesome fighting scenes. It was really excellent. Prior to this I have watched all of the anime series, the two are still matching up fairly well at this point.This volume finishes up the story arc started in volume 5 where Clare (along with Miria, Helen, and Deneve) take on an Awakened Being. We finally get some hint into what the Claymore organization is all about. Miria, seems to have some sort of insight into the Organization that has made them determined to take her out. This is followed by Clare being asked to track down another Awakened Being. When she arrives she meets Ophelia (one of the cruelest and most disturbing) Claymore yet.This was a really well done installment in the Claymore series. We finally learn a big secret about Clare. We also get to see some very awesome battles with Awakened Beings and meet some more single digit Claymores.This is the first volume where we get some hints that all is not well between certain Claymore and the Organization they work with. There is a lot more going on than just Claymore fighting Yoma and I am eager to see how this unfolds in future volumes.I continue to really enjoy the illustration. The fight scenes are easy to follow and I never get confused about who is who. The Awakened Beings are amazingly illustrated (and also incredible disturbing). There is a ton of action in here. This was the first installment where some of the action scenes got so disturbing that they made me go "ewwww" a couple times. This is by far the most violent book in the series yet. It's also the best book in the series so far. This is the book where things really start to unfold.Overall I loved this installment in the Claymore series. The story is really starting to broaden and we are learning both Clare's secrets and the secrets behind the Claymore organization. The illustration is wonderful and easy to follow. If you are fan of action packed dark fantasy manga I definitely recommend checking this series out.