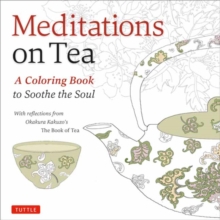 Meditations on Tea : A Coloring Book to Soothe the Soul
Paperback / softback
Description
Those who cannot feel the littleness of great things in themselves are apt to overlook the greatness of little things in others. from The Book of Tea by Okakura Kakuzo. In the Japanese tea ceremony, the act of making and drinking a bowl of tea is an act of respect, gratitude and interconnectedness.
It's about emptying your mind of cares as you enjoy one of life's simplest pleasures.
Now, Meditations on Tea presents an adult colouring experience as soothing as a hot cup of your favourite tea blend.
All aspects of Japanese art and culture are connected in some way with tea, and now these traditions can be explored and enjoyed in a beautiful new colouring book for adults.
Meditations on Tea includes over 90 traditional Japanese images celebrating life and giving it meaning. whether we are experiencing a tea ceremony or enjoying a few minutes of peace and quiet after a long day.
There are designs to suit every mood-from woodblock prints depicting Japanese life and myth to more thoughtful moods, to doodles with colour for creative relaxation all waiting for the artistic touch of your pencils or fine markers.
Enjoy letting your creativity take the lead with this mix of images and wisdom from Japanese prints and books in 92 relaxing adult colouring pages.
Information
Format: Paperback / softback
Pages: 96 pages, 92 colouring pages
Publisher: Tuttle Publishing
Publication Date: 17/04/2018
Category: Handicrafts, decorative arts & crafts
ISBN: 9780804850636