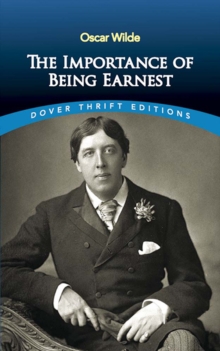 The Importance of Being Earnest
Paperback
Information
Format: Paperback
Pages: 64 pages
Publisher: Dover Publications Inc.
Publication Date: 01/07/1990
Category: Plays, playscripts
ISBN: 9780486264783
Other Formats
Paperback from £3.56
CD-Audio from £8.59
Hardback from £7.80
Mixed media product from £8.93
Free Home Delivery
on all orders
Pick up orders
from local bookshops
Reviews
Showing 1 - 5 of 14 reviews.
Previous | Next
Review by MsNikki
16/06/2015
I bought this on a whim, I recognised the name and decided "Why not".I loved it, it was sharp, funny and oh so relevant.
Review by gmillar
16/06/2015
Review by melopher
16/06/2015
I love the wit and humor saturated in this play. I also enjoyed being able to look at Victorian culture from a different angle. It is quick and funny, and the use of the English language a delight.
Review by ncgraham
16/06/2015
Oscar Wilde, besides being a rather infamous person himself, was an incredibly prolific author during his lifetime. Today he is known almost exclusively for two of his works&amp;mdash;<i>The Picture of Dorian Gray</i>, his only novel, and <i>The Importance of Being Earnest</i>, his final play. On the face of things, the two works could not be more different. The first is a dark work of Victorian "horror" fiction that reveals the evil lurking behind an attractive human face, whereas the latter is a sparkling comedy that satirizes the social order.The principal characters of <i>Earnest</i> are Jack Worthing, a country gentleman of mysterious origin, who has created a fictional brother by the name of Ernest as a means of escaping his responsibilities; Algernon "Algy" Moncrieff, his urbane, city-dwelling friend; Algy's cousin Gwendolen Fairfax, who is in love with Jack; her mother, the imperious Lady Bracknell; and Cecily Cardew, Jack's ward. To say any more would be to risk spoiling the story, and anyway the plot is almost too even set up in a review. Let us simply say that because of these five persons' conflicting goals and interests, both hilarity and chaos ensues.Some of the lines in this play reminded me deliciously of P. G. Wodehouse (although I've only read one book by that master), especially the opening interaction between the spoiled, indolent Algy and his butler Lane ("I don't play accurately&amp;mdash;anyone can play accurately&amp;mdash;but I play with wonderful sentiment"). Throughout I found myself absolutely crowing at some of the situations, particularly when Lady B. was involved.However, I came away from my reading feeling rather empty, and perhaps that is the main connection with <i>Dorian Gray</i>; both left me cold. The great, laugh-inducing lines aside, there really isn't much here aside from thinly veiled satire. What Wilde offers here has none of Austen's depth and little of Wodehouse's endearing qualities; even Kaufmann and Hart provided more real, human characters than he does.It is good entertainment, so the few hours spent reading it are not used in vain, but it provides little food for thought afterward. I think, though, that it is probably better experienced in the theater.
Review by bleached
16/06/2015
One of my favorite plays. A wonderful comedy about society, appearance, and the importance of earnest.
Also in the Dover Thrift Editions series | View all