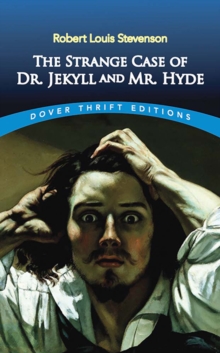 The Strange Case of Dr. Jekyll and Mr. Hyde
Paperback
Information
Format: Paperback
Pages: 64 pages
Publisher: Dover Publications Inc.
Publication Date: 01/01/1991
Category: Classic fiction (pre c 1945)
ISBN: 9780486266886
Other Formats
Paperback from £2.50
Hardback from £5.09
CD-Audio from £8.59
Paperback / softback from £2.48
EPUB from £0.99
Leather / fine binding from £12.45
Free Home Delivery
on all orders
Pick up orders
from local bookshops
Reviews
Showing 1 - 5 of 16 reviews.
Previous | Next
Review by 1morechapter
16/06/2015
It is said that Robert Louis Stevenson revised A Child's Garden of Verses and wrote Kidnapped and The Strange Case of Dr. Jekyll and Mr. Hyde in a time span of under two years--if only all of us could be so productive! This is a very short book and can easily be read in a few hours, so I encourage you to read it if you have not. I was very surprised I waited this long myself.It tells the story of how Dr. Jekyll conducted an experiment to separate the evil and the good in his personality. Mr. Hyde was the result of his evil side coming out. Dr. Jekyll's appearance was so altered that he was unrecognizable--both in appearance and actions. What was very interesting to me was that the experiment was done not just for "scientific research", but because Dr. Jekyll admitted to actually enjoying his more sinful side. He wanted to separate the two personalities, in other words, so he could participate in the evil activities while still considering his "real self" to be essentially good. Of course he eventually loses control of the experiment with disastrous results. This simple tale teaches us the true nature of good and evil and our propensity to desire sin. It should be read by all!
Review by universehall
16/06/2015
This book truly does earn the title of "classic". It has suspense, interesting characters, a fine storyline, and something that some books that are considered "classics" are lacking: a point. You could argue about whether the true demon of the story is man's nature, science, or the Promethian tendency of the eponimous doctor. However, the essence of the story is the classic "tradgedy" plotline: the hubris of the lead character leads to his downfall. I do emphasize the word "tragedy" in my review, as it's definitely not a happy-fun-time kind of book. But if you don't go into it expecting that, you will probably be perfectly satisified. In the end, I would say that the main flaw of this book is that it is infuriatingly short. You could almost complain that this book is nothing more than an extended short story. However, from another viewpoint this could be a virtue; what's better than a classic novel that can be read in less than two hours?
Review by jaygheiser
16/06/2015
Great story. I was very surprised that the chronology was reversed. It starts at the end and works its way forward, a device that none of the knock-off versions of this tale use. A master story teller.
Review by ChristaJLS
16/06/2015
This was a quick read but a good one. Mr. Utterson, a well know and respected lawyer in the community begins noticing the menacing and evil behaviour of a newcomer, Mr. Hyde. At the same time he is struck by the strange and inexplicable behaviour of his good friend and client, Dr Jekyll. Evidence suggests to him that Mr Hyde is threatening and/or terrifying his friend, but as he continues to investigate he encounters even stranger behaviour and explanations than he could have ever imagined.Like many of you, it seems like I have always known the story of Dr Jekyll and Mr Hyde, though I had never read it. I was surprised to find out it was narrated by a third party but found this provided a more well rounded approach to the story. I also found Utterson a very reliable narrator, whose account you could trust. This meant you weren't second guessing if things actually happened or if they were just the imaginings of a doctor whose done one too many experiments.This novella was written beautifully, the language was fun to read and easy to understand. It was easy to picture the Victorian setting and the dark streets and alleys Mr. Hyde would be creeping through. It's a fairly safe bet that you know what's going to happen in the end but Stevenson is such a great writer that you still get caught up in the story and are excited to find out how the truth is discovered. Beyond the story itself it also raises some interesting questions about the power/weakness of one's conscience and the lure of evil and desire.
Review by supersam
16/06/2015
a fun read, best read at halloween time
Also by Robert Louis Stevenson | View all
Also in the Dover Thrift Editions series | View all