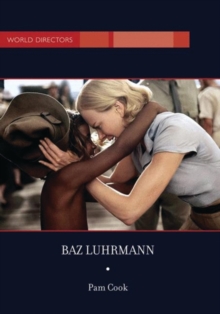 Description
This is the first major book-length study of the work of Australian film-maker Baz Luhrmann, one of the most exciting and controversial personalities working in World Cinema today.
Luhrmann's reputation as an innovator rests on the evidence of the three films known as the Red Curtain Trilogy: Strictly Ballroom (1992), William Shakespeare's Romeo + Juliet (1996) and Moulin Rouge! (2001), which together demonstrate the development of a highly distinctive style and brand. Pam Cook, who was given unprecedented access to the Luhrmann private archives, explores the genesis of the Red Curtain aesthetic, from Luhrmann's early experience in theatre and opera to his collaborative working methods and unique production set-up.
Drawing on in-depth interviews with Luhrmann and his chief collaborator, designer Catherine Martin, she traces the roots of their work in an increasingly globalised Australian film culture, investigating the relationship of their company Bazmark to the Hollywood studio Twentieth Century-Fox, and the influences on their style and production methods.
At the book's heart are substantial analyses of the spectacular Red Curtain films and the historical epic Australia (2008).
This lively and original study of one of contemporary cinema's most fascinating figures will appeal to film scholars, cultural historians and Luhrmann enthusiasts alike.
Information
Format: Paperback
Pages: 208 pages, 208 p.
Publisher: British Film Institute
Publication Date: 07/05/2010
ISBN: 9781844571581
Other Formats
Hardback from £64.85
PDF from £19.80
Free Home Delivery
on all orders
Pick up orders
from local bookshops
Reviews
Showing 1 - 5 of 10 reviews.
Previous | Next
Review by pmfloyd1
16/06/2015
The author (Pam Cook) is an excellent writer and the book material is well-documented, because it is truly a "study" of the work of Baz Luhrmann, a well-known Australian film director. Because I am in business, I was interested in both the business side of the Luhrmann Red Curtain films (and the "branding" of Baz (with a name like that you already have branding). While I had seen two of the four primary movies discussed (Strictly Ballroom and Moulin Rouge), I was most interested in his latest film: Australia. He appears to me to be throw back to the type of director from the 1960s - big screen, big story, big named actors and grand epic narrative... like David Lean or Stanley Kubrick. While it can be said that "Luhrmann courts controversy" (p. 35), the author Cook does not. Her style of writing is matter of fact and straight forward. Not flashy or filled with superlatives. I enjoyed reading the book and would recommend it to film, movie and biography readers. You never feel talked down to in and you really feel that you have learned alot (much more than just information) on Luhrmann and his films. Four stars. Paul Floyd, Mpls, MN Ps. I was sent a copy of the book as an Library Thing Early Reviewer and am glad that it is in my library. A good addition.
Review by saraswati27
16/06/2015
Pam Cook's review and theories on Baz Luhrmann's films and other work is an interesting introduction to Luhrmann. The book mainly focuses on the visual aspects of the films, exploring and theorizing on color and form, rather than script or characters. This is a fine approach for Luhrmann, who seems most inventive in his rich visuals. Cook does bring interesting context to Luhrmann's films, helping us decode the multi-cultural Australia which centers Luhrmann's work. But she doesn't bring much more depth to her writing on Luhrmann's themes then this contextual placement.Cook's strongest and most interesting points lay in some of the biographical material about Luhrmann's beginning work and early influences, bringing a fresh perspective to reading his films. Learning, for example, about the Luhrmann's early experimental theater writing and work helps us appreciate the development of his red curtain trilogy.My only critique of Cook's study is that she stays firmly rooted in the positive, exploring only Luhrmann's strongest qualities. She holds back from any critique of the director's missteps or exploration of the weaknesses that exist in every artist's body of work. Exploring the failures as well as the successes could have made the book richer and the analysis deeper.
Review by echaika
16/06/2015
Review of Baz Luhrmann by Pam CookSo provocative and insightful are Pam Cook's analyses of Luhrmann's Red Curtain films, that I felt I had to re-see them in order to evaluate the quality of her conclusions. The movies discussed in the book are Strictly Ballroom, William Shakespeare's Romeo + Juliet, Moulin Rouge, and Australia. Anyone who has undertaken thorough analysis of even one film knows it is a lengthy task. Every motion picture has the equivalent of more than 100,000 frames, each of which can be dissected as art historians dissect a painting. After doing my own analysis of Strictly Ballroom, it was clear that my original goal was impossible to meet for the purposes of this review, so I will focus on that film, with reference to the other films in passing to give you a taste of what Cook says.First, in the Intro to the book, Cook maintains that she is interested in what makes for a national cinema and how movies are branded. She proposes that Luhrmann has established a true Australian movie, albeit with international influences. She develops this thesis further as she scrutinizes individual films. At the outset, I must admit that she does not convince me. First of all, all cinema, from the early talkies on, have been international. Even Hollywood, that metonym for movies in general, was influenced by both German and French cinema from the beginning. In turn, it is virtually impossible to make a picture in any country with absolutely no Hollywood influences. The only movies I know of that are largely devoid of American influences are those of Kim Ki Duk, the Korean filmmaker. That doesn't mean there aren't others similarly unaffected. I just haven't seen any. This, of course, is a debatable issue for another forum and someone out there will joyfully prove me wrong.What I looked for in Cook's claims were the specifics that she cites for each film to show that Luhrmann has appropriated Hollywood and turned it to new purpose. She believes, and here I agree with her wholeheartedly, that retelling can be an act of originality. Most works of art are retellings. Cook points out that Luhrmann's William Shakespeare's Romeo + Juliet is play just such a retelling, just as Shakespeare's play itself was a retelling of a 16th century poem which, in turn, was a retelling of much older stories–even myths—of young lovers denied. Luhrmann's title for Romeo + Juliet was his way of saying that he, like Shakespeare, plundered earlier works to produce an original work of art. Like Shakespeare, Luhrmann relied on hyperbole, used popular music of the day, and purposely set his play in a nowhere place at no particular time. Cook believes that Luhrmann's retellings create a new Australian national film. This is debatable, as is shown below. This is not to say that Luhrmann is not original. That he certainly is. Like most postmodern filmmakers, he references and quotes other films, but to new purpose. What he creates is both markedly his, and also, I believe, original and innovative. Admittedly, before I can judge whether he has, indeed, created an Australian national cinema, I have to watch Australia again, which I will. As shown below, Strictly Ballroom is not strictly or even loosely specific to Australia, as Cook claims. For each movie she presents, Cook tells how the movie was produced, how different effects were achieved, the rationale behind selection of the musical score, how it was received critically, how much money it made and from what sources. Beyond such facets of movie making are her analyses of each as a work of art, and, specifically, as noted, an Australian one.Consider Strictly Ballroom. The movie pits an innovative, but sincere, honest, young outsider against the corrupt power-holders, the Anglo-Celtic Australians whose cultural conservatism dictates how people should and must behave. The outsider here is the star, Paul Mercurio, who is identified by Australians as being of Spanish descent; hence, by definition, not part of the Australian elite. He plays the role of Scott, however, a boy from an Anglo-Celtic family. His otherness is established by his actual ethnicity. This otherness is emphasized by his falling in love with Fran who looks Anglo-Celtic, but who speaks Spanish and is shown living with her very Spanish family. The contrast between her home and Scott's is highly marked.Luhrmann references Hollywood musicals of the 1940's and 50's throughout, as well as Saturday Night Fever and Cabaret, both from the '70's. As with Romeo and Juliet, locales are largely imaginary, although a few can be determined. Time is similarly deconstructed. It is not clear if the movie is all flashback or if it is taking place in a fictional present. For instance, its explosive opening of dancing to The Blue Danube is followed by a switch to a documentary mode showing the hero Scott's mother moaning about his insistence on individuality. Then the film shows a title "3 days later." 3 days later than what? The waltzing scene or the moaning mother scene?Luhrmann's use of hyperbole and travesty are manifested throughout the film. Cook sees this as particularly Australian. She notes the multitude of references to well-known Hollywood musicals, from Gene Kelly and Cyd Charisse, to Doris Day's singing "Perhaps, Perhaps" to Saturday Night Fever's motif of John Travolta's maturing through his love for a woman. Even Scott's solo dancing is redolent of Travolta's iconic solo performance. The judges of the dance competition are travesties of Joel Grey's role in Cabaret. The dancing venues in the movie use the kinds of sets that were used in the 50's, but with '70's disco balls twirling. Cook points out that neither hair styles nor costumes belong to any one time or place.The color is heightened throughout to the point of being garish, a reference to the vividness of Technicolor. The dancing competition is ruled by grotesque ribald representatives of conservative Australian society. Cook says that all of this, the hyperbole, the general heightening, the pastiche, and the travesty show that Luhrmann is not paying homage to Hollywood musicals. He is showing that they are in the past and need to be changed. I don't argue with this conclusion. Neither does Hollywood, since such movies have not been made in decades. The 70's musicals themselves did not hark back to Singin' in the Rain or Doris DayThe central issue in Strictly Ballroom is that of the young upstart who overturns the rigid power structure. The young, sincere Scott is a Jimmy Stewart type. When he persists in dancing his own steps and the music is cut off, the entire audience of the dance competition begins to clap the rhythm, affirming that the corrupt power structure has been overturned. This is straight out of a Capra movie, a very American ethos, which rejoices in seeing the young discard the old. This final scene is not travesty, not hyperbolic, not garishly colored, not satiric at all. It starts as in a Capra* film with Scott's father clapping, and others slowly joining him until they reach the climax with Scott and Francesca's innovative dancing. Even the motto, introduced by the outsider, Francesca, "A life lived in fear is only half a life" is repeated in Spanish throughout the movie in both English and Spanish. It is a motto in the film spurring Scott to rebel. As part of his maturation, Scott learns to say it in Spanish. All this indicates that such a thought is not an Australian idea. It comes from the "outside." I must add that, although it is said in Spanish by a Spanish-Australian girl, it is a typically American sentiment, one expressed in many ways in many genres of Hollywood films.It is impossible in a review to discuss Cook's insights into the other movies. Although I disagree with her on one point, I heartily agree with most of what she says. I have long shared her belief that retelling and quoting from prior sources, when apropos, create new originals. She added a dimension to my appreciation Luhrmann's oeuvre, and that is saying something as I taught the semiotics of film for over thirty years. The joy in teaching such a course lies in watching students start to see movies in entirely new ways. Cook does that even for knowledgeable viewers. Reading her book is a joy.Semiotic analyses are usually couched in impenetrable phrasing and joyless, opaque jargon. Cook's writing, however, is accessible, flowing, and cogent.*Capra didn't show this by having people clap to the rhythm of a dance, however.
Review by manque
16/06/2015
A decent survey of Luhrmann's career and films, though unfortunately lacking much cogent analysis or sythesis of ideas. Disappointingly for a book about a primarily visual art, there are relatively few photographs included. For those photographs and other visual examples that do appear, I was often left wondering why they were chosen; there is little explanation provided to guide the reader, and the relationship of the photographs to the surrounding text can be difficult to discern, if not downright obscure.There are plenty of details given regarding Luhrmann's development as a filmmaker, which will make the book of interest to aficionados of Luhrmann's work, and those interested in the minutiae of one director's travels through and manipulations of the publicity machine surrounding big-budget filmmaking. As a considered review of the art of Luhrmann's cinema, though, this treatment falls short.
Review by dele2451
16/06/2015
An academian perspective on collective works produced by legendary film maker Baz Luhrmann. This book provides detailed accounts and analysis of the unconventional methods and technologies Luhrmann and his partner Catherine Martin employed to create the distinctive style associated with big budget productions like "Moulin Rouge!", "Romeo + Juliet" and "Australia" as well as smaller/lesser known Luhrmann projects like the Chanel No 5 promotional movie. It's a fascinating look into the complicated workings of a focused and controversial visionary. There's also valuable accounts regarding the marketing and finance machinations of the independent and studio film industries on two continents. I believe it will be of immense interest to art, music and design students, those involved in stage or screen careers, film critics, entrepeneurs and possibly studio executives, as well as several other niche groups. If you're interested in an insider's celebrity tell-all, this will definitely not be your cup of tea--it is closer to textbook than tabloid. (Note to the publisher if they happen to read LT reviews: The word "auteur" gets quite a workout in this book. While I appreciate it's place in this text, it's repeated use became mildly annoying by the end. A few more photographs would also have been nice, especially since this is a book focused largely on Luhrmann's and Martin's visual style. The few wardrobe sketches that were included were delightful.) If you're a serious fan of Luhrmann's Red Curtain and later productions or a serious cinema buff, it offers a wealth of information unlikely to be assembled anywhere else--a recommend.
Also in the World Directors series | View all