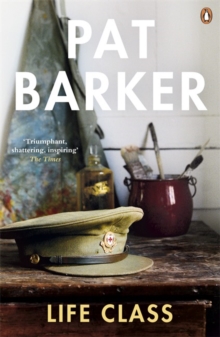 Description
Life Class is the first novel in Pat Barker's Life Class Trilogy - a powerful and unforgettable story of art and warSpring, 1914.
The students at the Slade School of Art gather in Henry Tonks's studio for his life-drawing class.
But for Paul Tarrant the class is troubling, underscoring his own uncertainty about making a mark on the world.
When war breaks out and the army won't take Paul, he enlists in the Belgian Red Cross just as he and fellow student Elinor Brooke admit their feelings for one another.
Amidst the devastation in Ypres, Paul comes to see the world anew - but have his experiences changed him completely?'Triumphant, shattering, inspiring' The Times'Barker writes as brilliantly as ever . . . with great tenderness and insight she conveys a wartime world turned upside down'Independent on Sunday'Vigorous, masterly, gripping' Penelope Lively, Independent'Extraordinarily powerful' Sunday TelegraphOther titles in the trilogy:Toby's RoomNoonday
Information
Format: Paperback
Pages: 256 pages
Publisher: Penguin Books Ltd
Publication Date: 07/08/2008
ISBN: 9780141019475
Other Formats
EPUB from £4.99
eAudiobook MP3 from £8.00
Free Home Delivery
on all orders
Pick up orders
from local bookshops
Reviews
Showing 1 - 3 of 3 reviews.
Review by shawjonathan
16/06/2015
I don't think Pat Barker's Regeneration trilogy could be described as World War One Chick Lit, since quite a lot of its action takes place in the trenches. Life Class, on the other hand, probably could. The War doesn't start until after more than a hundred pages of unrequited love among London art students. There are graphically described mutilation and suffering in a hospital and nearby village close to the front in Ypres. There's an ongoing discussion of how an artist should respond to the war, the main options being to ignore it because it's just something that happens to people rather than being chosen by them, to glorify it (there's a spectacularly noxious quote from the Futurist Manifesto), or to do one's best to tell the truth about it even though one's work might be unshowable. But even though Pat Barker includes an end note listing a number of biographies of artists who lived through those times, the debate pretty much sticks with the headlines, and the book ends up being little more than a footnote to the trilogy, a tale of young love thwarted by the War, not through the death of one lover, but by the creation of an uncrossable gulf between the two of them. Perhaps I'm missing something, but at times it felt as if there were two or even three different affairs being described: was her love unrequited as she felt, or his as he felt, or was she playing a manipulative, bisexual game as a third character claimed without being contradicted. I didn't know, and I'm sorry to say I didn't really care.
Review by bhowell
16/06/2015
I have read every novel written by Pat Barker, some of them more than once, and Life Class is another stunning achievement. I understand the comments of other readers that the book dragged in the first half and that the action should have moved to the battlefield much earlier, but this is a different book than her earlier action packed novels. In imagining her young artists whose careers are interrupted by the War, Ms Barker has drawn on the real life experiences of British artists who studied at the Slade School of Art in London under Henry Tonks in the pre-war years. In 1916, Henry Tonks, professor of Art, who was also a surgeon, left his position to work as a doctor. Although his inner thoughts are not revealed, unlike those of the students, he must have faced the same dilemma--Does art matter in the face of war? Should the brilliant Henry Tonks leave his profession of teaching art to heal the injuries of war? Should the students disrupt or more likely abandon their studies? Each makes their own decision and the book follows their lives, as medics and ambulance drivers in the Belgian Red Cross, as nurses, and as students of Art. During WWI Henry Tonks became a pioneer in the techniques of modern plastic surgery as he reconstucted the faces of mutilated young men. He created drawings before, during, and after surgery to guide the reconstruction. So in his case, art clearly mattered even in war. As for the students, each finds a different path.The novel opens in the classroom of Henry Tonks' life class and we are introduced to student Paul Tarrant and shortly after the other student characters emerge. The war has not started yet but is much talked about in the nation's drawing rooms and in its student cafes. The character developement of each student and their relationships with each other need to be established before the story can move to the battlefield and have meaning. That story is never boring but I agree that the compulsive read starts about half way through the book.
Review by paulmorriss
16/06/2015
This is set in wartime and there are some horrible bits. However war is horrible and there's a good story there too.