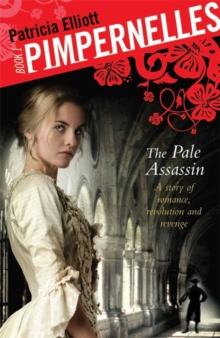 The Pale Assassin
Paperback
Description
Eugenie de Boncoeur is growing up in Paris, unaware that her guardian has contracted her to marry the sinister spymaster known as 'le Fantome' when she turns sixteen.
She finds herself falling for the handsome lawyer, Guy Deschamps, but there is little time for romance; France is descending into chaos as the Revolution takes hold.
Soon Eugenie is fleeing for her life. Her brother Armand has become involved in a plot to save the King from the guillotine, the mob is searching for aristocrats, and le Fantome, the pale assassin, is on their trail - desperate for revenge.
Information
Format: Paperback
Pages: 432 pages
Publisher: Hachette Children's Group
Publication Date: 01/06/2009
Category: Historical
ISBN: 9780340956762
Free Home Delivery
on all orders
Pick up orders
from local bookshops
Reviews
Showing 1 - 2 of 2 reviews.
Review by rebecca191
16/06/2015
Although orphaned at a young age, fourteen-year-old Eugenie de Boncoeur has never known much hardship. Raised by a wealthy guardian, her life is carefree. She is more concerned with parties and dresses then the growing unrest around her. But in July 1779, she is suddenly and violently made aware when the French Revolution begins.Eugenie is sent to a convent for her own safety, but even there she cannot escape the violence. And she soon learns that she is in danger from more then just the hatred the revolutionaries have for aristocrats like Eugenie and her family. Her guardian has betrothed her to a mysterious man named the Pale Assassin, a man who wants to marry her to get revenge for a wrong he feels her father committed against him years ago. Eugenie attempts to flee to safety with relatives in England, chased by both revolutionaries and the sinister Pale Assassin.I had mixed feelings about this book. It starts out a bit slow, and Eugenie was a hard character to like at first - she starts out spoiled, selfish, and immature. However, as the book progresses the story picks up pace, and Eugenie becomes more likeable as she matures and develops an awareness of the world around her. Ultimately I did get into the story and am interested to find out what happens next in the sequel, which will be published next year. This isn't the best book I have read recently, but if you can overlook the slow start and enjoy historical fiction, I would suggest giving this book a try.
Review by AdonisGuilfoyle
16/06/2015
Another excellent YA F-Rev selection. After a clunky introduction to the French Revolution, Patricia Elliott's novel swiftly transformed into an enjoyable, unbiased and intelligent story about a young girl whose narrow existence is thrown into tumult along with her country. Of course, I initially wanted to read the story because of the connection to the Scarlet Pimpernel series by Baroness Orczy, and I was pleasantly entertained by the author's nods to the original - calling the heroine's brother Armand, setting the clifftop finale in Calais, and mirroring <i>Eldorado</i> with a cameo appearance from the Baron de Batz - but also by Elliott's own cleverly plotted adventure. <i>A Pale Assassin</i> is at once believeable and fantastic, with flawed characters who grow and change, living and breathing in the all too evocative environs of late eighteenth century Paris, yet filled with secret identities, hair-breadth escapes, swashbuckling fights and evil villains.<i>Eugenie gasped and bit her tongue. The inside of her mouth, coated with sweetness from marshmallow and lemonade, filled with blood.</i>Eugenie de Boncoeur is in for a rude awakening. In her youthful eyes, Paris is a glittering procession of lavish dances, gorgeous gowns, and delicious treats. Staying with her wealthy guardian, and loved and protected by older brother Armand, Eugenie's only worry in life is how to escape her lessons and persuade her governess Hortense to accompany her to the Palais Royale instead. Then comes the 14th of July, 1789, and nothing will ever be the same again. Hortense is dismissed, Eugenie sent to a convent, and brother Armand is caught up in the spirit of the Revolution. And a mysterious stranger called the Le Fantome is silently stalking the young girl, waiting to take his revenge upon her family when she comes of age ...Eugenie is a typical heroine for this type of novel: initially weak and naive, from a pampered background, she must quickly learn to think and act for herself and the safety of those closest to her. Apart from a few references to a groom who conveniently taught her to ride, hunt and fence, Eugenie undergoes a wholly convincing and necessary transformation into a brave and capable young woman. I think Patricia Elliott strikes a careful balance between the spoiled child and the resourceful teenager, letting national upheaval and personal loss shape Eugenie's already wilful nature into the inspiring heroine she becomes.Elliott also plays fair when writing about the Revolution, letting royalist and republican characters argue their own corners without imposing a modern viewpoint on a historical narrative: <i>'We're not like the English, who executed their king. We are still the most civilised country in Europe.''You think so?' said Armand bitterly. 'Think of the prisoners massacred last month, over twelve hundred of them, mostly ordinary people, not even aristocrats. Danton just stood by and let it happen. Danton, the Minister for Justice! Some justice!''It was feared there were traitors among them, counter-revolutionaries who'd hand the city over to the Prussians. People panicked.''You think that justifies mass murder?'</i>Patricia Elliott's Pimpernelle series - and I will be downloading the second book straight away! - should appeal both to younger readers who have only tackled the French Revolution in history lessons at school, if at all, and more mature readers with a longer, if not more extensive, interest in that particular time and place. Fans of the Pimpernel, like myself, will also enjoy the similarities between both novels!