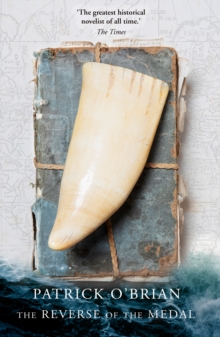 The Reverse of the Medal
Paperback
Description
Patrick O'Brian's Aubrey-Maturin tales are widely acknowledged to be the greatest series of historical novels ever written.
To commemorate the 40th anniversary of their beginning, with Master and Commander, these evocative stories are being re-issued in paperback with smart new livery.
This is the eleventh book in the series. The Reverse of the Medal is in all respects an unconventional naval tale.
Jack Aubrey returns from his duties protecting whalers off South America and is persuaded by a casual acquaintance to make investments in the City on the strength of supposedly certain information.
From there he is led into the half worlds of the London criminal underground and of government espionage - the province of his friend, Stephen Maturin, on whom alone he can rely. Those who are already devoted readers of Patrick O'Brian will find here all the brilliance of characterisation and sparkle of dialogue which they have come to expect.
For those who read him for the first time there will be the pleasure of discovering, quite unexpectedly, a novelist of unique character.
Information
Format: Paperback
Pages: 286 pages
Publisher: HarperCollins Publishers
Publication Date: 27/02/1997
Category: Historical adventure
ISBN: 9780006499268
Free Home Delivery
on all orders
Pick up orders
from local bookshops
Reviews
Showing 1 - 2 of 2 reviews.
Review by gbsallery
16/06/2015
This is the first review I have written for a Patrick O'Brian novel, having read the prior Aubrey-Maturin books before getting into LibraryThing, so this is in some ways a review of the whole series. This makes it even harder to put into words quite how staggeringly brilliant these books are; a sense heightened by the Reverse of the Medal, as its final pages bring a crescendo of emotion and meaning which can only be appreciated once you have the first ten novels under your belt. That such careful, (impeccably) mannered prose can move you so much is testament to the deep bond that you, as reader, share with the characters, who are sketched in with such deftness that their every movement and thought are utterly believable, consistent, and thus a pleasure.I can't really do justice to the depth and subtlety of this work, so I'm just going to gibber for a bit.
Review by Fence
16/06/2015
Someone mentions Jack Aubrey and at once you think of sea battles and naval history, you may not think of Stock Exchange frauds and court cases, but that is exactly what we have here. Of course there is some sea action, this book takes up after Master and Commander, so even if you only saw the film you have a rough idea of what to expect.. Aubrey and the crew of the Surprise have been off protecting whalers and most of this book is set either on their way home, or back in England. Jack has problems of his own, a young black catholic man who has a remarkable similarity to Jack turns up, but Stephen isn't carefree either. His wife appears to have left him, and there is trouble in the intelligence agency. But I don't really read these books for the plot. I read them because of the way they are written, the characters that shine and the wonderful language. It is also interesting the way Jack notes that the colourful coats he's used to are no longer fashionable. More and more fashion calls for black coats. Well, maybe you don't find that interesting, but I did. Plus, the more I read around this whole general time period the more I enjoy these books. Phrases I read in Heyer's books turn up here too, things "don't signify." ) A saying I now intend to use all the time, so be prepared. I particularly liked Jack's unshakable belief in the English justice system, his absolute knowledge that once he tells the jury the truth nothin could possibly go wrong. Not to mention Stephen's attempts to dissuade him of this notion: "They are men who tend to resign their own conscience to another's keeping, or to disregard it entirely. To the question 'what are you're sentiments when you are asked to defend a man you know to be quilty?' many will reply 'I do not know to be guilty until the judge, who has heard both sides, states that he is guilty.' … standing up in a court for which ever side has paid upi, affecting warmth and conviction, and doing everything you can to win the case, whatever your private opinion may be, will soon dull any fine sense of honour. The mercenary soldier is not a valued creature, but at least he risks his life, whereas these men merely risk their next fee."