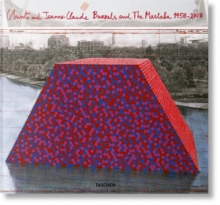 Christo and Jeanne-Claude. Barrels and The Mastaba 1958-2018
Book
Description
From June 18 to September 23, 2018, London's Hyde Park will host Christo and Jeanne-Claude's newest installation: The Mastaba (Project for London, Hyde Park, Serpentine Lake).
The temporary sculpture takes cues from mastabas of the first urban civilizations of Mesopotamia.
These Mastabas were mud benches with two vertical sides, two slanted sides and a flat top.
Towering at 20 meters high and with its 500 tons anchored to the Serpentine Lake, this waterborne project will gather 7,506 painted oil barrels to create a floating mosaic of red, white, blue, and mauve.The London installation will act as a precursor to what will be Christo and Jeanne-Claude's greatest achievement and only permanent large-scale work, first conceived in 1977: The Mastaba (Project for Abu Dhabi, United Arab Emirates), a Mastaba sculpture made of 410,000 multi-colored barrels and set to measure 150 meters, rising higher than the Great Pyramid of Giza.
Situated in the middle of the desert and painted in dazzling colors, this would not only be the biggest sculpture in the world, but also one of the most incredible creations in history.Hyde Park's Mastaba draws upon the couple's established legacy of waterborne, floating structures, as well as their history in using barrels as a material.
A coinciding exhibition at the Serpentine Gallery will present Christo and Jeanne-Claude's sculptures, drawings, and photographs from the past 60 years, curated by Hans Ulrich Obrist and Melissa Blanchflower.This book, designed by Lorenza Giovanelli and Christo himself, spans Christo and Jeanne-Claude's complete history of barrel-made structures, from 1958 until today.
It documents the evolution of The Mastaba, from Christo's earliest preparatory drawings and collages to his most recent work, through the photographs by Wolfgang Volz, gathering maps, technical data, and engineering drawings, with many of the images and documents published here for the first time.
Free Home Delivery
on all orders
Pick up orders
from local bookshops