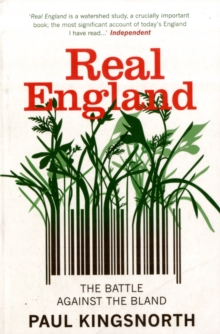 Description
We see the signs around us every day: the chain cafes and mobile phone outlets that dominate our high streets; the disappearance of knobbly carrots from our supermarket shelves; and the headlines about yet another traditional industry going to the wall.
For the first time, here is a book that makes the connection between these isolated, incremental local changes and the bigger picture of a nation whose identity is being eroded.
As he travels around the country meeting farmers, fishermen and the inhabitants of Chinatown, Paul Kingsnorth reports on the kind of conversations that are taking place in country pubs and corner shops across the land - while reminding us that these quintessentially English institutions may soon cease to exist.
Information
Format: Paperback
Pages: 320 pages
Publisher: Granta Books
Publication Date: 01/06/2009
Category: Cultural studies
ISBN: 9781846270420
Free Home Delivery
on all orders
Pick up orders
from local bookshops
Reviews
Showing 1 - 1 of 1 reviews.
Review by Schopflin
16/06/2015
I had expected to find 'Real England' interesting but annoying, like most polemics. But Kingsnorth is not an aggressive writer and, while I don't agree with everything he says, his picture of bland corporate britain was depressingly convincing. He argues that to surrender what makes our living environment interesting and quirky to the forces of profit and bureaucracy is a huge shame and gives examples that shocked me, and I think I know a bit about this kind of thing (80% of harbourfront properties in Cornish fishing villages given over to holiday lets and second homes? The ability of pubcos to force their tenants to pay over the market prices for beer they have to stock? The eradication of the vast majority of our orchards?). As a Londoner with non-English parents, I find it hard to identify with the specifically English identity he gives to the argument and the West Lothian question aside, am not sure an English Parliament is the answer. What do I have in common with someone from Carlisle that I don't have with someone from Dumfries? But I agree that it's a shame that English national identity has been colonised by far right groups. I also think he missed a trick in not exploring what England means to first- and second-generation immigrants, something observed interestingly by other writers and broadcasters.I also think the emotive side of his argument, part and parcel with its heartfelt sincerity, slightly hazes the fact that corporations themselves and the people within them are mostly not evil, they are just aren't necessarily the best-motivated people to make decisions about our communities. But Real England is anything but a sentimental book and its message that to worry about these things is neither nostalgic nor anti-progress is one worth listening to. A book to be taken seriously.