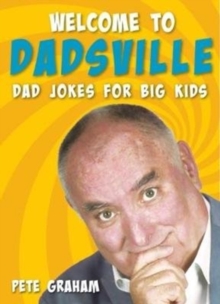 Welcome to Dadsville : Dad's Jokes for Big Kids
Paperback / softback
Description
Dad Jokes for Big Kids. Dad jokes are in and of themselves an art form. The first step is that they have to be so bad theyre funny.
They also have the sort of punchline that you should have saw coming but somehow didnt. And theyre all a little embarrassing to laugh at. But hey, if everyone else is probably groaning, laughing or perhaps doing both at the same time, your goal has been achieved Radio DJ Pete Graham is the King of the dad joke.
Every day he posts a dad joke on his Facebook page and brings a laugh to thousands of people.
You could say that Pete resides is a permanent state of Dadsville.
Here, for the first time, is a collection
Information
Format: Paperback / softback
Pages: 112 pages
Publisher: New Holland Publishers
Publication Date: 01/12/2017
Category: Humour
ISBN: 9781921024665