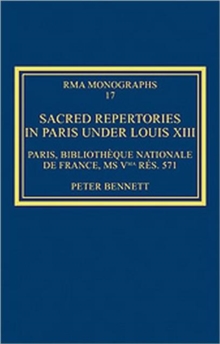 Sacred Repertories in Paris under Louis XIII : Paris, Bibliotheque nationale de France, MS Vma res. 571
Hardback
Description
The study of sacred music under Louis XIII (r.1610-43) has advanced little in the past hundred years.
Despite some important recent contributions by the late Denise Launay and others, much of our current perception of the Latin sacred music of the period is still informed by the pioneering research undertaken by Henri Quittard in the early years of the twentieth century.
Even with Quittard's work, however, the almost complete absence of surviving sources has severely limited our understanding of this era.
But by re-examining one of the seventeenth-century 'treasures' of the Bibliotheque nationale (MS Vma res. 571), Sacred Repertories in Paris under Louis XIII reveals that, far from being a transitional period in which little music of any interest was produced, the reign of Louis XIII witnessed a flowering of musical activity and the development of musical techniques normally associated with the reign of Louis XIV. Based on an exhaustive and innovative manuscript study, Sacred Repertories shows that Vma res. 571 (a largely anonymous source of previously unknown provenance) was copied in Paris by the composer Andre Pechon, and that it preserves three previously unidentified repertories with connections to the court of Louis XIII.
The repertoire of the musique de la chambre, until now considered a secular institution, shows it to have been an equal partner of the chapelle in the provision of sacred music at court.
The repertoire of the royal parish church of Saint-Germain-l'Auxerrois, the only 'working' liturgical repertory surviving from the century, illustrates musical practices at this important collegiate church. And the repertoire of the Royal Benedictine Abbey of Montmartre testifies to the richness of musical tradition in Parisian convents during a period when no other comparable music from France survives.
Sacred Repertories thus transforms our understanding of the musical landscape of seventeenth-century France and provides a springboard fo
Also in the Royal Musical Association Monographs series | View all