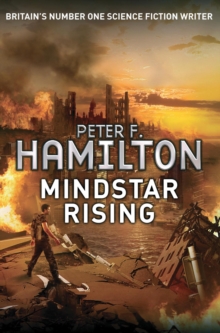 Mindstar Rising
Paperback
Description
It's the 21st century and global warming is here to stay, so forget the way your country used to look. And get used to the free market, too -- the companies possess all the best hardware, and they're calling the shots now.
In a world like this, a man open to any offers can make out just fine.
A man like Greg Mandel for instance, who's psi-boosted, wired into the latest sensory equipment, carrying state-of-the-art weaponry -- and late of the English Army's Mindstar Battalion.
As the cartels battle for control of a revolutionary new power source, and corporate greed outstrips national security, tension is mounting to boiling point -- and Greg Mandel is about to face the ultimate test.
Information
Format: Paperback
Pages: 448 pages
Publisher: Pan Macmillan
Publication Date: 01/10/2011
Category: Space opera
ISBN: 9780330537742
Free Home Delivery
on all orders
Pick up orders
from local bookshops
Reviews
Showing 1 - 1 of 1 reviews.
Review by AnnieMod
27/08/2015
Who would have thought that Hamilton could write short (for his standard anyway) self-contained novels. It came almost as a shock when the book did not finish with a cliffhanger to allow the second one to be just a continuation. Meet Greg Mandel - a veteran from a war in our near future who had received experimental treatment that turned him into a psychic - human lie detector and so on and not someone that can see the future that is. Hamilton's novel start very heavy on the technical jargon (some of it a bit gritting 20 years later because things had evolved enough for some of those things to have different names) which will turn off a lot of readers. But once you get through those first chapters (and unlike some later works, a chapter is not 100 pages or so), once you grasp this future (complete with Communists, global warming on a huge scale and financial collapse), the story becomes very easily readable and enjoyable. When we first meet Greg he is on a kill mission (it will take most of the novel to understand why he was killing) but it turns out that he had started to use his unusual condition in the only way he really could - becoming a private investigator. And when a weird theft is found in one of the biggest companies, he is hired to investigate. Of course this turns to be the tip of the iceberg and more thefts and deaths start resurfacing, with Greg in the middle of the action. Add another psychic friend (who can see the future in a way) and you would thing that there is no way things to go wrong. And you will be wrong - because the glands that allow these powers are not infallible and have protections that shuts them down when overused and of course that happens just in the worst possible moment. Figuring out who was behind all the mayhem was logical once it was pointed out - I did not expect to see the story going this way even if there was no other logical way (except going really deep internally...).The novel is a mix of very technical hard SF novel and a soft SF novel (with a detective story thrown in)- which is kind of rare in the genre. You can see the style of Hamilton - not as polished as later but it is there and I am happy that I finally got around to this novel. And I am definitely checking the next 2 in the trilogy.