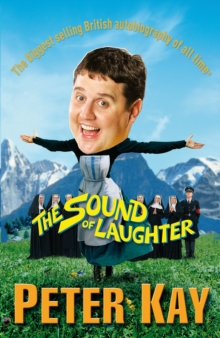 The Sound of Laughter
Paperback
Description
Peter Kay's unerring gift for observing the absurdities and eccentricities of family life has earned himself a widespread, everyman appeal.
These vivid observations coupled with a kind of nostalgia that never fails to grab his audience's shared understanding, have earned him comparisons with Alan Bennett and Ronnie Barker.
In his award winning TV series' he creates worlds populated by degenerate, bitter, useless, endearing and always recognisable characters which have attracted a huge and loyal following.
In many ways he's an old fashioned kind of comedian and the scope and enormity of his fanbase reflects this.
He doesn't tell jokes about politics or sex, but rather rejoices in the far funnier areas of life: elderly relatives and answering machines, dads dancing badly at weddings, garlic bread and cheesecake, your mum's HRT...His autobiography is full of this kind of humour and nostalgia, beginning with Kay's first ever driving lesson, taking him back through his Bolton childhood, the numerous jobs he held after school and leading up until the time he passed his driving test and found fame.
Free Home Delivery
on all orders
Pick up orders
from local bookshops
Reviews
Showing 1 - 3 of 3 reviews.
Review by fizzy_fizz1
16/06/2015
Light readingVery honestI chuckled all the way throghannoyed all those that were around me as I read this one
Review by psiloiordinary
16/06/2015
Light reading.Good fun. Honest in a contrived and made up kind of way - honestly.A decent bloke telling decent jokes.Laugh out loud.
Review by ablueidol
16/06/2015
Decent northern British bloke who had a typical 70's working class life( back to back terraces, poor schools, worse diet) but who mined humour rather then bitterness out of it.If you are British you will have read the book, seen the performances(mainly drawn the book and his life) or his award winning range of comedy-drama shows. Or seen and brought the charity song so know what I am on about.If you are not British, then its very likely you never heard of him.Although he was a monster on Dr Who. And if you have did you really understand what he said...some if us don't and we speak the language!In a short, very funny if you were there but er...what...if you weren't.